Godrej Appliances, a division of Godrej & Boyce Mfg. Co. Ltd., one of India's largest Home Appliances companies released a new television commercial for the Godrej Eon Front Load Washing Machine. The film is an extension of the brand's promise "Soch ke banaya hai" brought alive by the primary insight – "cleans what you see and what you don't".
Conceptualised by Creativeland Asia, the TVC emphasises on the new feature i.e. allergy protect mode, which helps remove allergens and bacteria along with stains.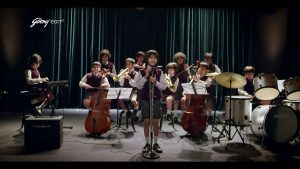 About the film, Ms. Swati Rathi, Marketing Head, Godrej Appliances said, "At Godrej Appliances, we consistently upgrade & develop our product portfolio to cater to the evolving needs of customers. In line with this, we have introduced the Godrej Eon Front Load Washing Machine with features that resonate well with our core brand values of being thoughtful and innovative. In our new commercial, we are communicating the allergy protect mode – a relevant advancement over the core concept of cleanliness."
On the recently launched film, Anu Joseph, Chief Creative Officer, Creativeland Asia said, "The 'symphony of sneezes and scratches' was a great way of driving home the point of allergies coming in the way of a child's interests and efforts. It also stays true to the brand philosophy of 'Soch ke banaya hai'."
The film begins in a school auditorium where the school band has gathered to practice in front of the music teacher and school principal. They are about to begin their performance when a boy starts itching a rash on his arm. Another kid starts sneezing. Soon we see the whole band sneezing and scratching through their performance. One kid who isn't affected by the infection expresses his concern by saying that they cannot succeed if they continue sneezing and scratching.
The film then shows how the new Godrej Eon Front Load Washing Machine's allergy protect mode gets rid of invisible allergens and bacteria as well as stains.
Source: Creativeland Asia