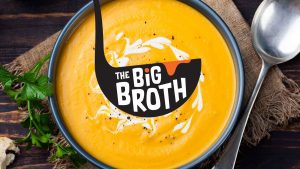 Soup is making a comeback thanks to youth homelessness charity Centrepoint and their soon-to-be-launched fundraising event Big Broth.
For immediate release 26th June 2018. Social purpose and charity marketing agency GOOD have been appointed by Centrepoint to deliver the mass activation of their brand new featured fundraising event "Big Broth".
Big Broth is a new initiative that was kicked off in early 2018 with a search to find the nation's tastiest homemade soup. The winner had their soup put into production by Yorkshire Provender, with 20p per pack going to Centrepoint. The next stage is to turn Big Broth into a huge nationwide event, that everyone across the country can join in with.
Richard Utting, Events Director at Centrepoint, said "GOOD Agency impressed us with their proven track record, their positive challenging approach and commitment. We're excited to take Big Broth onto the next stage, and level, with them."
After a three-way competitive pitch, Centrepoint have tasked GOOD to deliver the campaign creative and positioning alongside the event implementation and supporter engagement.
To do this GOOD have proposed a big strategic shift, flipping traditional visions of soup as something solitary, for the sick, or as something in a soup kitchen to be positive, inspiring and a meal for bringing people together.
Chris Norman, MD & Founder of GOOD added, "We're thrilled to have been appointed as Centrepoint's Activation partner for the Big Broth. We believe a great event should be three things: simple, shareable and scalable, and we believe Big Broth has the potential to be all three."
The inaugural Big Broth is currently anticipated to run November 2018.
Source: GOOD