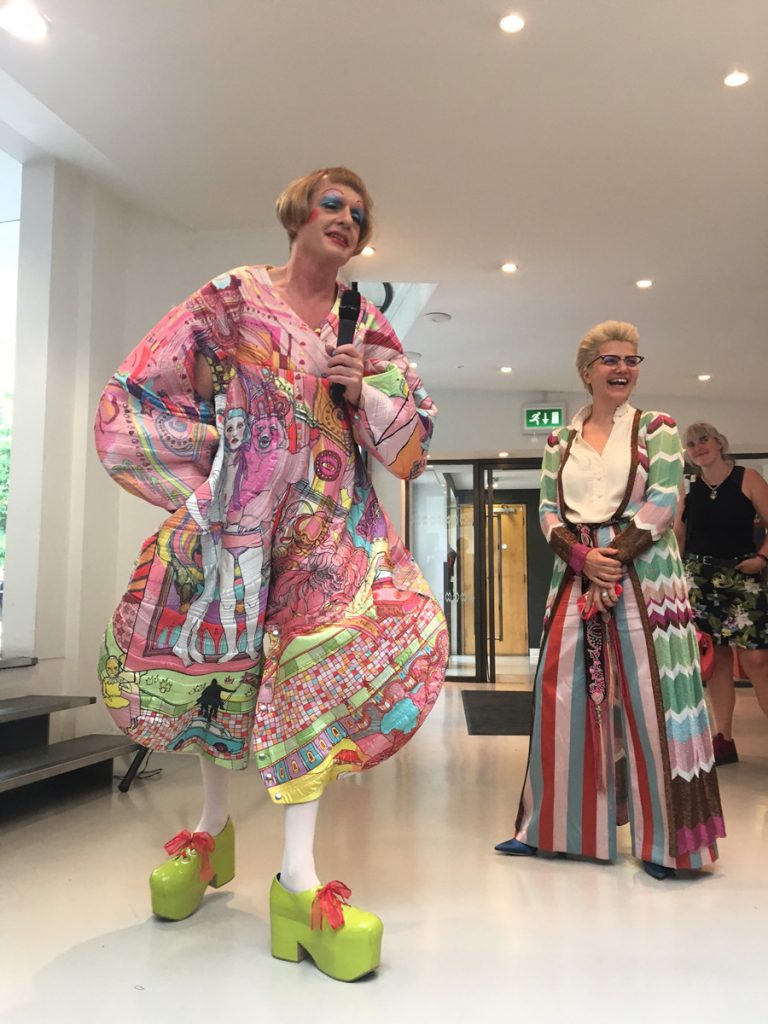 The art scene is about to take off in Bloomsbury, Central London, with the launch of UpUp, an exciting, first-of-its-kind, contemporary art space from ad agency McCann London. UpUp kicked off with "Frockaholic: Grads, Grayson and Gorgeous Dresses", a unique exhibition featuring outfits designed for one of Britain's best-loved artists Grayson Perry, by 2nd year Fashion Print Students at Central St. Martins.
For the past 14 years, Central Saint Martins has collaborated with Grayson Perry on an end of year project "Make something gorgeous for Grayson Perry". This translates to every 2nd year BA fashion print student at the college designing an outfit for the artist.
After trying on every single made-to-measure design in a private fashion show at Central Saint Martins, Grayson then announces his top three favourite outfits, awarding the students behind them bespoke and hand-crafted miniature 'Claire' sculptures. He also pins envelopes to the other outfits he intends to purchase – an undeniable honour and privilege for each student about to embark on their career in the fashion industry.
It is with great pleasure that this year, McCann London has partnered with Central Saint Martins to celebrate the students' creative work and Grayson's love of fashion, by hosting this exhibition featuring the 16 garments and story books, under the title: "Frockaholic: Grads, Grayson and Gorgeous Dresses". Grayson attended the opening where he wore the winning outfit – a brightly coloured and intricate romper-suit.
UpUp is part of McCann London's ongoing investment in support of groundbreaking talent in the eclectic creative sector. Laurence Thomson, McCann London's Co-Chief Creative Officer, said: "We're a company dedicated to filling our building with as much creativity as possible. So, we're massively excited to open the UpUp space for artists to realise their boldest, most interesting ideas, in an exhibition space unlike any other. And what better way to launch our exhibition space than with such beautiful designs for Grayson Perry."
Through UpUp McCann wants to captivate a new London audience and invigorate Bloomsbury with a series of visually spectacular exhibitions and installations.
The exhibition is open to the public from June 29 – July 21, Monday-Friday from 10am-4pm. Entrance is free. McCann London is located on 7-11 Herbrand Street, Bloomsbury, London WC1N 1AF.
We'd like to thank: Grayson Perry, the technicians and lecturers at Central Saint Martins, photographer Jonathan Glynn-Smith, L.Type print, Touch Digital post-production company, Craft London and last but not least the 16 students responsible for these amazing creations.
Source: McCann London