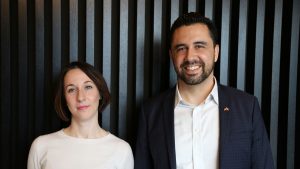 Socialyse, Havas Group Media's 360° social agency, has bolstered its team with the appointment of Sebastian Redenz as Head of Paid Social, and Hannah Rainbow as Senior Operations Manager.
Sebastian Redenz joins Socialyse from iProspect, where he held a similar role, overseeing the agency's paid social team across three offices, managing relationships with all key media owners and developing campaigns for clients including Microsoft and Calvin Klein.
In his new role, Redenz will oversee all paid social activity as part of Socialyse's 360° social offering. Reporting to Sarah Treliving, Havas Group Media's Chief Digital Officer, Redenz will lead a team of 25 paid social specialists across planning, trading, analysis and operations.
Hannah Rainbow, former Mindshare Head of Campaign Management, has joined Socialyse as Senior Operations Manager. Rainbow set up and led Mindshare's campaign management department, providing support for the agency's AV, digital, print, search and social teams. She also worked closely with GroupM to help roll out a new media booking system for all clients across the agency.
In her new position, Rainbow is tasked with driving operational effectiveness in order to help Socialyse to continue to deliver innovative work for clients.
Sarah Treliving, Chief Digital Officer, Havas Group Media, said: "I'm delighted to welcome Sebastian and Hannah to the Socialyse team. Sebastian brings proven ability to drive innovation, with deep expertise in delivering paid social at scale, while Hannah has the ability to manage major projects, with a rare combination of a love of process and great people skills."
Sebastian Redenz, new Head of Paid Social, Socialyse, said: "I've been impressed with the way in which Havas is leading the way in agency integration with its HKX Village model, bringing all specialisms and capabilities under one roof. As part of this, Socialyse's 360° social offering is compelling."
Hannah Rainbow, new Senior Operations Manager, Socialyse, said: "By bringing all its agencies together, Havas allows specialisms to thrive while fostering collaboration. My new role on the Socialyse team brings together all the things I love, and I can't wait to get stuck in."
Source: Havas Group Media