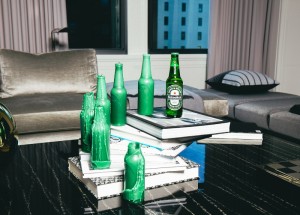 Heineken USA unveiled a special six-pack of custom handmade Heineken-bottle candles in partnership with lifestyle concept store Alchemist Miami, marking the very first time the beer brand's #Heineken100 program expands into home goods. The luxurious decorative accessories were hand-poured with a proprietary soy and wax blend, then de-molded and heat-finished, also by hand. The products mark the fourth of this year's five collaborations and will be revealed tonight at a VIP event at Alchemist's 1111 Lincoln Road location. Five attendees will have the opportunity to receive the limited-edition candles.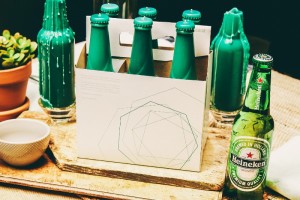 Now in its sixth year, the #Heineken100 program, which celebrates the brand's hyper-influential consumers with custom collaborative products, is teaming up with legendary men's fashion stores in five of its fans' favorite U.S. cities. These include Alchemist in Miami, KITH in New York City, Union in Los Angeles, RSVP Gallery in Chicago, and Concepts in Boston. Each partner has crafted a unique set of just 100 products that will be unveiled at a VIP launch event and seeded to 100 national influencers.
"I am honored to represent the city of Miami for this year's #Heineken100 program," said Alchemist Founder Roma Cohen. "I wanted to create something that immediately brings the brand to mind, so we carefully spot color-matched vegetable dye to get the exact hue of Heineken green. The six-pack is almost a mini-artwork that is both fun and nostalgic – and it would look great in anyone's office!"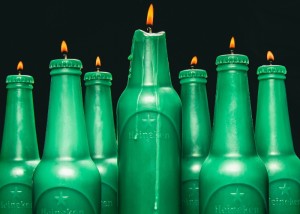 For the first time ever, in addition to custom goods, the program includes the #Heineken100 City Guide and local events in each of the five markets, for ages 21 and over. Created by the #Heineken100 retailers and Highsnobiety, the #Heineken100 City Guide highlights the favorite locales of its five culturally connected partners.
"Our goal with the #Heineken100 is to connect influential beer drinkers with the cities that matter to them through the progressive styles unique to each metropolis," said Heineken USA Brand Manager Raul Esquer. "Roma Cohen and Alchemist sit at the epicenter of Miami's burgeoning design and fashion scene, and we couldn't be more thrilled with the results of our partnership."