Heineken will debut their new television commercial, "Deja Vu," on Heineken's YouTube and Facebook channels as the brand ushers in the redesigned  'Star Bottle' across the United States.
Paired with a multi-layered campaign themed "Arrive Big," the creative will begin appearing on targeted television programming on March 11.
"This spot marks a pivotal milestone for the Heineken brand, as we build on the success of the 'Legends' advertising campaign and officially introduce the U.S. to our new Star Bottle," said Colin Westcott-Pitt, Vice President, Heineken.
"Our priority is to 'break the mold' in beer marketing with cinematic, sophisticated ads that feature our 'Man of the World,' a progressive, cultured guy, who is inventive in any situation."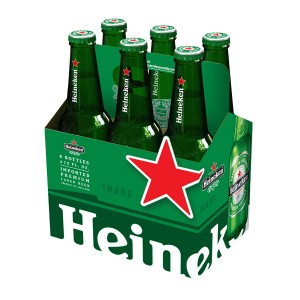 "Deja Vu " follows the story of a man traveling the world, visiting bars and clubs of Ho Chi Minh City in Vietnam, then Lagos, Nigeria, before finally arriving in New York City, where he finally gets his hands on the Heineken Star Bottle. Like the new Star Bottle , he has made an impression all over the world.
The spot was created by Wieden+Kennedy New York and directed by award-winning Director Rupert Sanders . The television spot will be launched with a 90 second version and will subsequently be seen in 60 and 30 second formats.
The new Star Bottle design, represents a more modern take on the brand's iconic green bottle, featuring the same legendary taste that reinforces the brand's upscale status.
The taller, sleeker and modern Star Bottle is currently available in 170 markets around the world and is being rolled-out nationally in the US.
The "Arrive Big" campaign will also be reinforced with out-of-home and retail elements that further celebrate the arrival of Star Bottle, and will be amplified by PR and digital extensions providing supporting content.
As a part of this platform, Heineken will give one lucky consumer the opportunity to tell their story and make a big arrival of their own. Additional details on the "Arrive Big" campaign will be released in late March.