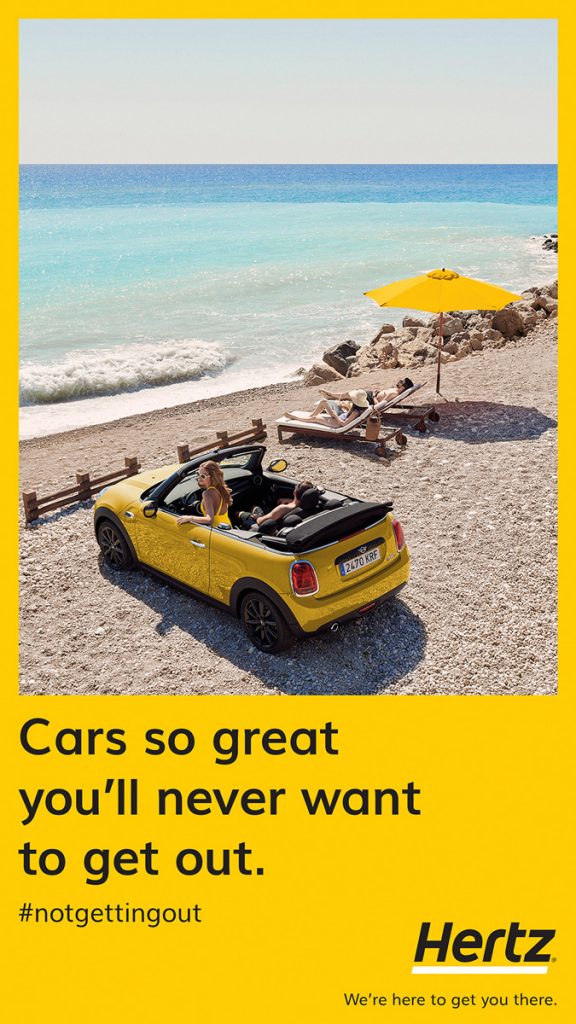 Car rental company Hertz is rolling out its biggest promotional campaign of the year so far with a multi-platform, pan-European push through Adjust Your Set that features car influencer Becky Evans – aka @QueenB on Instagram.
The 'Cars so great you'll never want to get out' campaign will run on VOD, DOOH, digital, print, and social to promote Hertz's fleet of premium cars. Influencer activity kicks off with Becky Evans broadcasting a series of three original videos showing five great reasons to hire a Mini, an Audi A3 and a Land Rover Discovery over the next few weeks.
Campaign creative positions Hertz vehicles as the holiday destination, with people trying to spend as much time in them as possible, in environments where they'd normally be expected to jump out to enjoy the surroundings. A series of three executions features sunbathing in an open-top Mini, fishing from a Land Rover, and people-watching in an idyllic European square from a Mercedes A-Class.
The campaign forms part of Hertz's global strategy to increase the volume of vehicles in its Premium fleet with the addition of more top-marque vehicles including Audi, Mercedes, Mini, BMW, Land Rover, Jaguar, Maserati, and more, across the UK, Germany, France, Spain, Italy and Benelux.
Temerity Vinson, Hertz's senior director of international marketing, said: "The 'Cars so great you'll never want to get out' campaign lands the experience that comes from hiring from our Premium Fleet range – it's a sticky creative that helps us cut-through in a noisy and crowded market."
Mark Wileman, Hertz's brand marketing director, added: "Refreshing what Hertz means for a new generation of consumers is a core objective. This striking ad hits the mark through a playful, vibrant tone that encapsulates the experience of hiring one of our premium cars."
Robert Waddilove, creative director at Adjust Your Set, said: "We wanted to create a campaign that reflected the variety of vehicles Hertz offers, along with a benefit that is shared across them all, in a way that felt whimsical and a little tongue in cheek. Playfully showing people using the cars in unexpected ways, whilst shooting the creative to look like a high-end car ad with a hint of nostalgia, brings all of that together."
The VOD spot airs in the UK this week, supported by a significant DOOH presence across major UK cities, as well as social, online display and print.
Source: Adjust Your Set