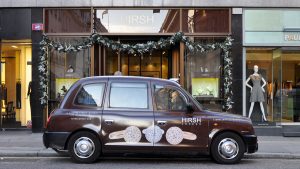 Hirsh London, Mayfair's luxury jewellery house, has appointed Williams Murray Hamm to handle its rebrand ahead of its 40th birthday celebrations in 2020.
Founded in 1980 by Anthony and Diane Hirsh, today the business is run by their son Jason Hirsh and his wife Sophia. Whilst the company is thriving, it was felt that their existing identity and communications failed to capture the attitude and essential Britishness of the business. Consequently, WMH was appointed to create a sharper, better defined brand essence and to reflect it in completely new creative work.
Hirsh is one of the London's most respected jewellery boutiques.
Its speciality is in its large variety of unusual, natural coloured gemstones which it goes to extraordinary lengths to source. All its one-of-a-kind pieces are designed around an individual gem and handmade in its London atelier.
Hirsh's devotion to coloured gems chimes with the current trend towards coloured engagement rings and the very personalised nature of its service means that customers find exactly the right piece of jewellery and gem to suit them perfectly.
WMH was introduced to Hirsh through a former client and won the project through a chemistry meeting and subsequent competitive proposal. Its creative input will stretch across advertising, packaging, website and a new logo. First fruits of the relationship will be seen in January 2019.
Garrick Hamm, WMH's creative director, says "Hirsh imagines and produces the most exquisite and joyous colour driven jewellery in town. They have a wonderful British quirk to them, and our new brand identity and campaign captures this spirit at the same time as giving them visibility and cut through in a sea of mainstream, luxury jewellery sameness."
Source: Williams Murray Hamm