After an incredible year which saw a nationwide listing in Waitrose, a Grocer Gold Accolade and a £250,000 share of the Sky Footprint Fund, Homethings today announces  it will be rolling out a bold, new packaging refresh in early 2023 
In a bid to educate consumers and attract eco-active shoppers to the range, the new creative features bright colours, simple messaging and introduces its new "mop"mascot, protesting against the bonkers 'status quo' of water based single-use plastic products in the category.
The new packaging, designed in collaboration with Belief Machines, will be rolled out across Waitrose stores nationwide, as well as on it's D2C site gethomethings.com
The Home Care B Corp will also be rolling out new single-tab dispenser packs for its refillable cleaning sprays in Waitrose stores, giving customers the option to buy as they use for the first time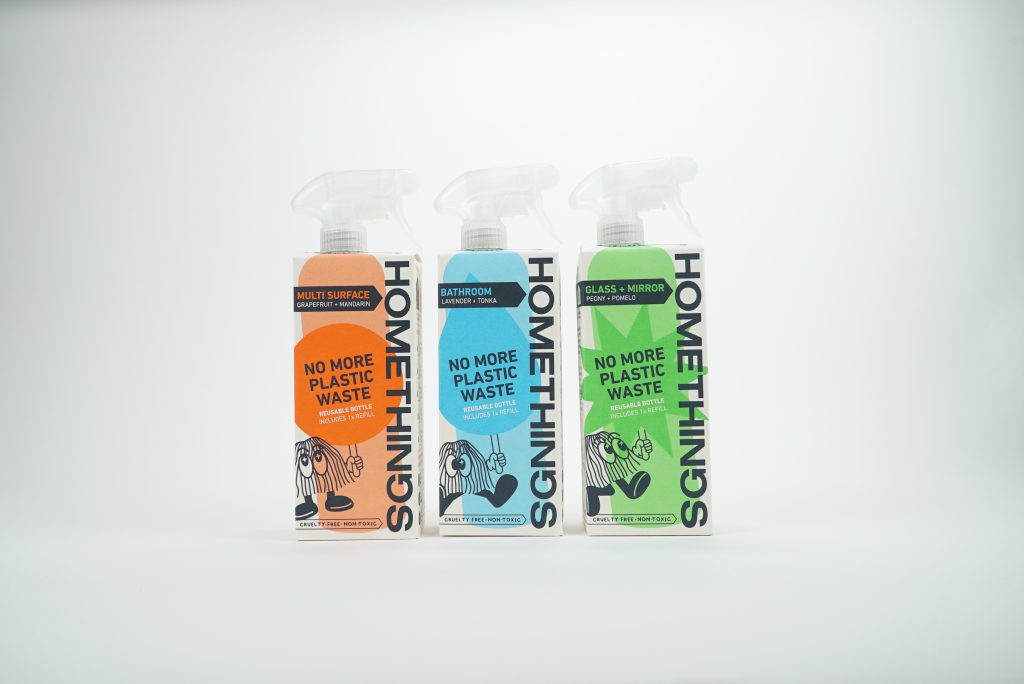 Homethings – the most innovative challenger brand in Home Care – today reveals its plans for a brand-new look across its retail product packaging. Executed in partnership with Belief Machines, the refresh aims to educate consumers and land simple benefit-led messaging. The bright and bold creative speaks directly to eco-active shoppers looking to make sustainable choices and to join Homethings in saying 'No More Plastic Waste'.
Rather than following the rules and conventions set out by other eco brands within the category, Homethings has designed its new packaging to purposely break them. One of the boldest additions to the new design is the introduction of "Mop", an important mascot figure for the brand in 2023 that will start to become more prominent in its marketing and communications. On the new retail packaging designs, "mop" can be seen protesting, holding placards that challenge the cleaning industry with messages such as "No More Plastic Waste" – an invitation for many consumers looking to cut down on their domestic use of single-use plastics.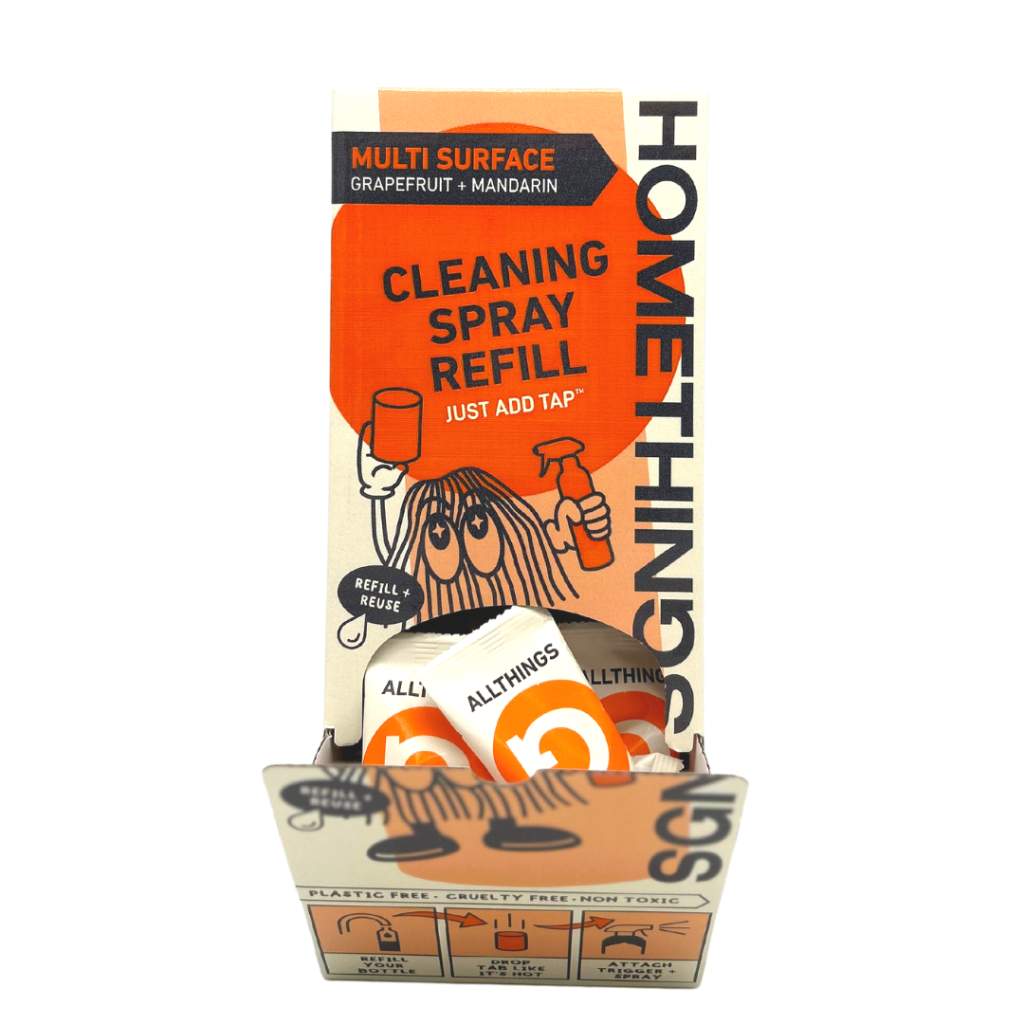 In addition to its playful mascot, Homethings hopes to attract shoppers to explore it's innovative range of waterless, single-use plastic free, refillable and reusable cleaning products by featuring bright, colourful shapes that bleed over the sides of the boxes – unconstrained by the edges and symbolic of the brand's mission to do things differently and shake up the cleaning industry for good.
The refresh will also see the brand's statement logo flipped on its side, paving the way for bright colours to punch from the front of the pack, designed for maximum impact and on-shelf visibility. The cleaning spray starter-kit packaging is printed on the "reverse" side of the board for a more tactile experience and uses the natural colour of the board as the background – tapping into the Homethings ethos of "doing more with less".
Homethings was the first brand within the home care category to put carbon labeling on its packaging, and this is here to stay with the new design.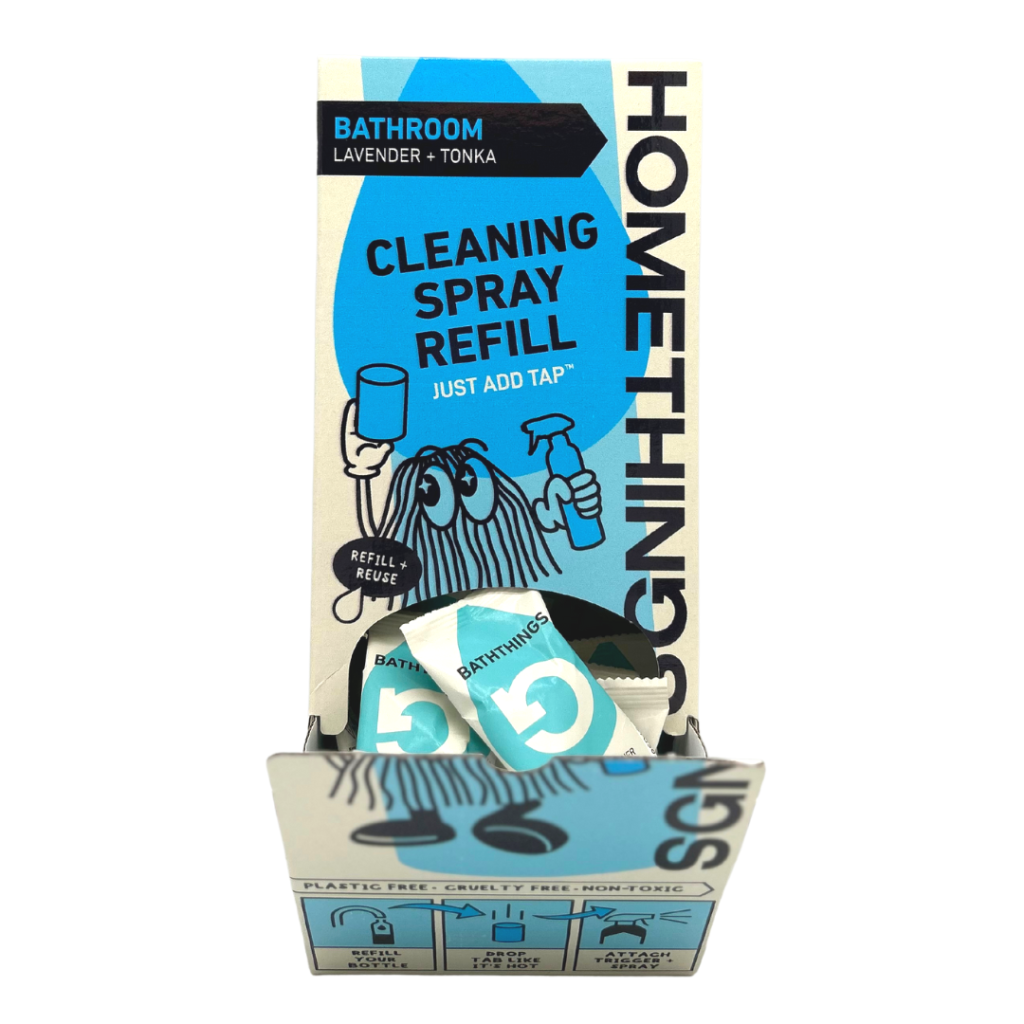 To make the power of refill even more accessible to shoppers, it will also be rolling out new single-tab dispenser packs, giving Waitrose customers the option to buy just one Allthings refill tab for £2 as opposed to its standard three-pack refill, which retails for £6.
Tim Keaveney, Co-Founder of Homethings commented: "Our new packaging underlines our core brand values. Shake things up, more with less and just have fun! This is a whole new way of consuming in this category and we're educating consumers that its completely bonkers to ship a product that is mainly water all around the world in single use plastic! . Recent Kantar data shows that while 70% of consumers try to buy environmentally friendly packaging, only 25% of people regularly avoid plastic packaging*, creating a huge "value-action" gap in UK grocery. This was a huge driver behind the rebrand, as it's all about educating shoppers that there is a better alternative available on shelf. Likewise, our decision to introduce the single-tab dispensers is all about making refill more accessible and affordable. As the cost-of-living crisis continues to affect people across the UK, we want to do everything in our power to help people make better, greener choices – and stick to them."
The new packaging and single refill dispensers will be rolled out across all 232 Waitrose stores nationwide in early 2023, spanning Homethings' three cleaning spray starter-kits and its plastic-free dishwasher tablets. The rebrand will be implemented across the rest of the range, available on Homethings' D2C site gethomethings.com.
To view the full range of Homethings products, visit www.gethomethings.com
*Bain & Company Report: Purpose-led brands can reshape the Consumer Goods Industry if they can scale, Oct 2022
Source: Homethings