While other car brands are still announcing sustainable cars, Hyundai has already brought three zero-emission vehicles onto the road. This progressive attitude is nothing new for Hyundai, given their rich entrepreneurial history, but it remains a lesser known fact to the outside world.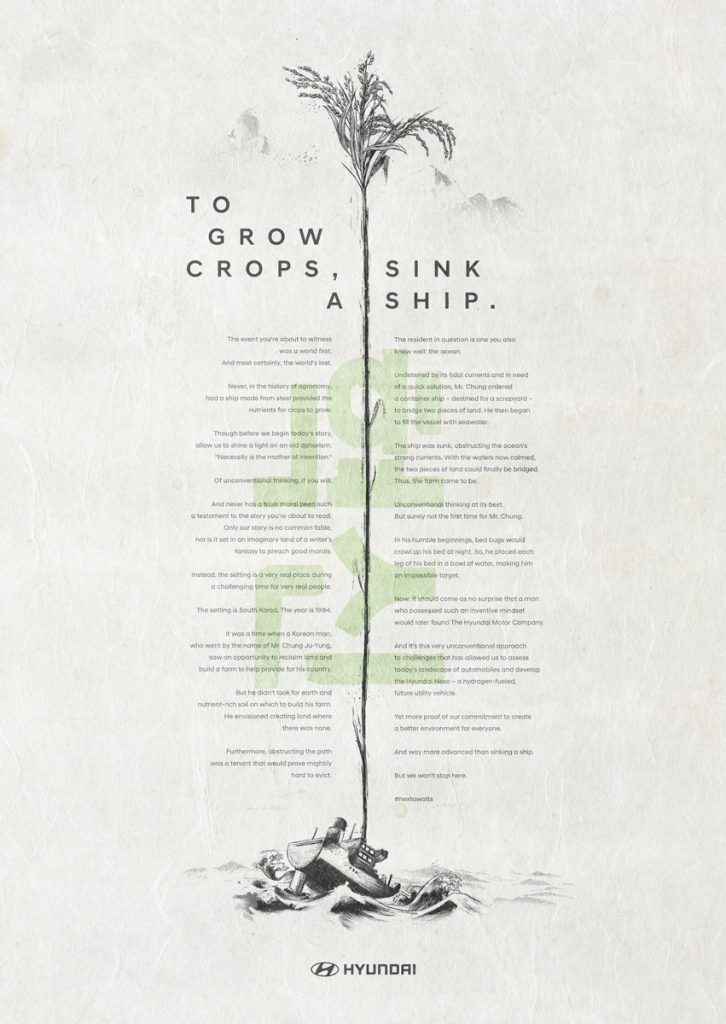 So when it came to promoting their next generation of cars — the Nexo, the Kona and the Ioniq, Hyundai's creative hub, INNOCEAN Berlin, decided to go down memory lane with an ambitious campaign: Next Awaits. 
Launched as a two-minute film, the spot showcases for the first time Hyundai's enterprising past. It begins with the Nexo, the latest fuel-cell car, arriving on the scene, after which the film reels backwards in time to show all that preceded the present day.
The film hypnotically rewinds along with the mesmerizing track from the composer team 2wei, while the VO leads us on with "Progress doesn't happen by chance, it's shaped by history…"
We soon find ourselves in a time when Hyundai not only made cars but built harbours and ships, constructed bridges and dams, forged their steel, laid roads. Ultimately, we see how it all started with the founder of Hyundai, Mr Chung Ju-yung, who began the ambitious journey as a labourer carrying stones.
"Our goal from the very beginning was to make it known that Hyundai is a progressive brand that's continuously chasing the next. With this campaign we have successfully ushered in a new era not only in our marketing communication but also in the way the brand thinks, behaves and influences us," adds Gabriel Mattar, INNOCEAN Chief Creative Officer.
The film was directed by Dante Ariola, who with the help of post-production partner MPC and production partners MJZ and TPF, skilfully managed to contain the dense and breath-taking history of Hyundai within a brief narrative, while at the same time bringing forth the emotion and the spirit of Hyundai.
And as an accompaniment to the grand narrative of Hyundai, the Next Awaits campaign comes with five long copy ads giving in-depth accounts of Hyundai's incredible ventures and successes (under the titles: Cow, Dam, Medal, Ship and Turtle).
Source: INNOCEAN Berlin