Indiana Farm Bureau Insurance and advertising agency Young & Laramore will debut the insurance company's latest campaign, "Old You/Now You," during 2018's Super Bowl.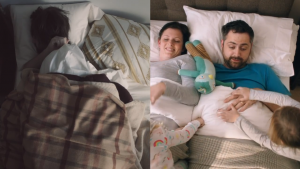 Building on past Super Bowl success, the new creative is the latest iteration of the IFBI's "Stop Knocking on Wood," campaign that Super Bowl fans have come to love, now in its seventh year.
"Old You and Now You are very different people. From being single in your first apartment with a futon bed and mismatched pillows to being married with three kids in your second home, with a king-size bed and 500 thread count sheets—you're simply not the same person you were 10 years ago, 5 years ago, or even last year. Things Change. Your insurance should, too. Luckily, your Indiana Farm Bureau Insurance agent helps to see if Now You is covered for all of life's constant changes," revealed the agency in their release.
The campaign will include broadcast, digital, print, and radio. The TV ads will air regionally during the Super Bowl, and during pre- and postgame shows.
Credits:
Client: Indiana Farm Bureau Insurance
Rick Kuster, SVP, Chief Marketing Officer
Kari St. Clair, Director of Marketing Services & Field Supervisor
Kristen Gibson, Manager, Advertising & Brand Strategy
Erin Igney, Manager, eCommerce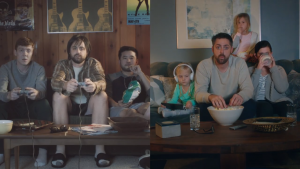 Agency: Young & Laramore
Carolyn Hadlock, Principal, Executive Creative Director
Trevor Williams, Principal, Creative Director
Charlie Hopper, Principal, Writer
Kyle Nordsiek, Art Director
Aidan McKiernan, Writer
Daniel Vuyovich, Senior Designer
Nick Prihoda, VP Account Management, Account Director
Sara Walker, Account Supervisor
Char Loving, Executive Producer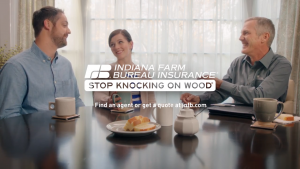 TV Production: O Positive
Spencer Riviera, Director
Ralph Laucella, Executive Producer
Marc Grill, Executive Producer
Devon Clark, Producer
TV/Radio Editorial: Beast/Company 3/Method Studios/Airstream Audio
Peter Hufllinger, Executive Producer
Joanna Woods, Post Producer
Claire Smalley, Production Coordinator
Angelo Valencia, Editor
Source: Young & Laramore