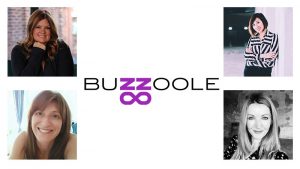 Leading influencer marketing platform Buzzoole has added more strategic global firepower to its senior team with the appointments of Melissa Lee as global operations director, Jane Roy as vice president of the Americas, Manola Pegoraro as global chief finance officer, and the promotion of Sarah Whitfield to global chief marketing officer.
Buzzoole has made the appointments following another year of impressive growth which has seen the platform secure $8.9 million in Series A funding, as well as being named as one of the top twenty fastest growing companies between 2014 and 2017 by the Financial Times.
The appointments also bring an even stronger female presence to the company's leadership team, with both Manola and Sarah joining the senior leadership team alongside Melissa Lee, as a part of their new roles.
Manola, brings both media and digital agency finance experience to Buzzoole, and will be working to drive a strategy which supports the growth of the business.
Sarah will be responsible for overseeing all global marketing and communication strategies, and Melissa will lead the global campaign operations strategy and talent marketplace development.
Jane Roy, who joins from influencer marketing and video specialists gen.video and Reelio, has been tasked with building the US side of the business from Buzzoole's New York headquarters.
Fabrizio Perrone, co-founder and CEO at Buzzoole says: "It's been a fantastic year for Buzzoole. Our industry expertise and proprietary research benchmarks have helped us to evolve beyond our start-up beginnings, and also bring meaningful change to the industry as a whole. These new hires represent the next stage in our development as a truly global fast-growing business, and all four of these immensely talented women will help ensure that we stay at the forefront of the industry."
Source: Buzzoole