Creative agency isobel launched a new advertising and creative campaign for Healthspan, leading online vitamin and supplement supplier, two years after they last appeared on TV in 2017.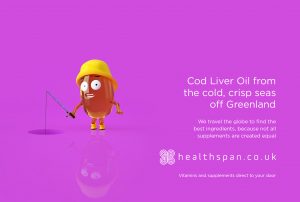 There is an assumption among consumers that supplements are all the same, that turmeric is simply just turmeric. Perception is that whatever vitamins, minerals or supplements you buy, they are essentially the same product.
With this new campaign, isobel tackles the myth by showing that supplements are not, in fact, 'created equal'. Healthspan's offering is superior, both in terms of the provenance of their ingredients and the overall quality of their products.
The campaign is comprised of TV, press, digital display and social and focuses on the provenance and quality of Healthspan products. It features fun and friendly animated characters which represent various supplements, brought to life by the Oscar nominated directors Job, Joris, and Marieke.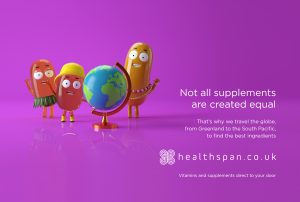 Chris Colmer, Brand Marketing Director at Healthspan, comments: "We believe this campaign will really stand out and resonate. With the abundance of choice for every supplement on the market, it's really difficult to understand why you should choose one brand over another and isobel have found a way to communicate the quality of Healthspan products in a unique and engaging way."
Sarah Humphreys, Account Partner at isobel, said: "In what can be seen as quite a sterile category, we wanted to produce something that stood out and brought to life the personality of the Healthspan brand. It's a clear departure from typical vitamin and supplement advertising which tends to be very clinical or celebrity led."
The campaign will run from the 8th April 2019 until the end of the year.
Source: isobel