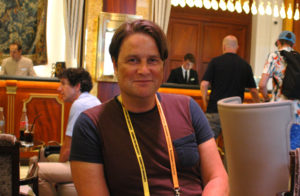 J. Walter Thompson Amsterdam were the toast of the Marketing and Communications Industry in 2016, greatly thanks to projects such as 'The Next Rembrandt' that helped bag them the Innovative Agency of the Year prize at the Cannes Lions Festival last year.
A year on, we got a chance to sit down with the Creative Partner of JWT Amsterdam, Bas Korsten at Cannes, who gave us an insight into all their successful projects and how the agency plans to maintain their innovative and highly successful streak going:
Q) Last year was immensely successful for you, greatly thanks to The Next Rembrandt Project. Can you give us a brief insight into how that idea come to be?
A) There wasn't anything brief about the project so it's really tough to put it into a few words! It was a brief from ING Bank, who wanted to so something innovative in their culture sponsorship and then I saw the face of Jesus… not as a religious epiphany… but in a magazine. It was an article about geologists who had found skulls in the vicinity of Jerusalem and had created the face of Jesus out of that. So, with all historic material they created something new and I said okay if you can do that why can't you take all historic paintings and create a new one out of that. So that's how the idea was brought up.
Q) Another one of your projects, which as gained some early success in 2017, is the School for Justice. How did that come to be?
A) I think like with ING, it was a brief for a traditional campaign. So the brief was can we get awareness for child prostitution in India – where there are 1.2 million underaged prostitutes – we said yes we can do that but the problem is these girls get taken out of the brothels but nothing changes. So how can we fundamentally change this other than just doing awareness campaign for it? We thought of something that was at the same time the awareness campaign as well as a fundamental solution to the problem.
Q) How have people embraced the campaign?
A) In general, people were really taken by it. I think we have got a lot of fans, which is good! There is also the traction that the Next Rembrandt had in Cannes and we wanted to use that same attention that a project like that can have here and use that for the School for Justice, because all the attention that we can get for this project we want… so the Golden Lion more than anything was another way to get more attention for the situation that the girls are in, and the school has a solution to that.
Q) Amazing projects aside, you now also have your own brand! Tell us about the Super Sauce?
A) We have a chef in the agency, that cooks us fresh lunches. He is a very creative guy and is always busy with creative stuff… so when we were thinking about what are the problems that kids or families face when they want to teach their kids how to eat vegetables, we thought maybe we can do something creative for a solution, which can actually help solve that problem other than, again doing a campaign about the problem… So that's what we did!
Q) Another of your projects, which gained a lot of buzz, was 'Menu'… can you talk to us about it?
A) That started as a personal project of our chef and our designer in the agency. When I hire people I always ask them do you have hobbies? Because that is just something you care about, that you are passionate about, and I just give them time to actually develop that and then see how we can somehow work it into what the agency is doing.
Ideally, I always looks for that kind of projects within the agency and always try to inspire people to come up with stuff that nobody asks for… because I think that is where the most interesting things are. If you have a question from a client there is already a perception on where the answer to that question needs to come from, whereas if you can come up with it yourself, out of your own passion, then it often brings you to more interesting places.
Q) Obviously 2016 was a phenomenal year for you, what is your plan for J. Walter Thompson Amsterdam going forward?
A) I think what's the threat in these projects is that they're all… one is the painting, one is the school, one is a product… we just tend to look at what the fundamental solution to a client's problem is other than communicating about that specific problem or trying to create awareness for it. So, we rather do something more fundamental than just talk about it.
Q) How do you perceive the industry today and how do you see it evolving?
A) I think the way that we (JWT Amsterdam) are doing things is one of the ways moving forward. It's more about creativity and business creativity rather than just communication creativity. So I think advertising agencies really need to be aware of the reality of their clients and try to protect creativity about a specific thing, rather than just waiting for the brief that has a story that the clients wanted to tell. So, you really got to understand the client's business and what keep them up at night, and then see how creativity can solve that or help that specific problem.
Q) What was your favourite project from the previous year?
A) I love 'Fearless Girl' because of the impact that it has. If you see all the tourists standing next to that little girl, you feel that it transcends communication. It has become part of the culture and I think that's the greatest things that you can achieve as an advertiser.
Q) Are there any particular trends that you're excited about?
A) What I think is interesting is that, in the (Cannes) jury of innovation category, there are now venture capitalists, entrepreneurs, etc… so I think when we talk about business creativity, that's where the industry is going. Venture Capitalists are here to scout ideas, because creative people they know business, they know creativity… so I think on that intersection between us two, there is lots of value there and I think the investors are seeing that.
Q) There seems to have been a recent push with the industry to focus more on these social campaigns, such us your School of Justice, Fearless Girl, etc. Do you think this is something bands and agencies are focusing more and more on?
A) Definitely. What is interesting is that clients are slowly starting to realise that they have a website, where they get million people a day, they have social channels, where they have a lot of fans and lot people that like them. So if you have that and you have a story that can get traction by itself other than to have to spend lot of media money behind it to actually get people to see it, then I think they are hugely powerful channels for creative people to get their message across without actually having to shove it into people's faces. I think that is definitely something unstoppable.
Q) If you could change something about the industry today, what would it be?
A) I would encourage people to dive deeper, to go deeper into what you actually can achieve with your creativity rather than telling the story of the client. Just dive deeper, see what the actual problem is and can you come up with almost a physical solution to that problem, much more than communication.
Q) What advice would you give to the people coming into the industry?
A) This is not only for the people coming into the industry, I think in general, this is a time to learn, to soak up as much as you can, to read, to dive into things, to actually go into Snapchat, Instagram and see how it works. For young people that's all normal but for people that are slightly more experienced they will say: 'I don't need to do that' maybe… but I think you have to be part of it to understand it and to be able to work with it an if you see what technology delivers, as far as tools in the tools box of the creative to do great things with, you have to be at the forefront of that, to be able to understand it and to be able to use it in the work that you do. In that sense it's such exciting times for creative people to be in the industry, we have so many things that we can work with, it's unbelievable!
You can listen to the full interview with Bas below: