[KGVID width="600″ height="338″]https://marcommnews.com/wp-content/uploads/2016/05/The_Army_reserves.mp4[/KGVID]
Creative agency Karmarama recently launched the latest campaign Army's Reserve, as part of the 'Become a Better You' creative platform.
The Reserve work includes an online film directed by Peter King of Outsider, supported by national radio, VOD, digital display and data-driven eCRM & social content.
Building on the success of 2016's Regulars recruitment campaign, which crucially did not depict serving soldiers, combat or weaponry, the Reserves activity features authentic conversations in civvy street environments.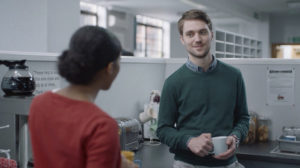 Targeting apathy and misconceptions around the commitment needed to become a Reservist, the film execution powerfully highlights the way in which the Army helps you become a better you, whilst maintaining a full-time job. It seeks to tackle barriers head on by challenging the audience with "who's got time for that?" and helps broaden consideration of the forces to a wider group.
Karmarama won the business in December 2015. The bold' 'Become a Better You' campaign to recruit Regulars from earlier this year has drove a 10% uplift in website views and positive brand tracking across all key audiences.