Italy's demographic crisis prompts baby food brand Plasmon to lobby for organisational and government reform for families
Plasmon campaign by DUDE highlights the extreme consequences of declining birth rate for the country
Launches with a press conference in Milan today 16th February with Italy's ministry of family, the Mayor of Milan, sociology and demography professors
Opens serious conversations with organisations and government to change regulations in favour of new and future parents
Italy's birth rate has declined every year since 2008 and in 2022 it fell below the 400,000 threshold: a drop of over 25% when compared with births in 2011 (546,607). As the third oldest country in the world, this is the lowest recorded birth rate since unification in 1861. This is, and has been for years now, a serious issue for the country with consequences that range from social and cultural to economic ones.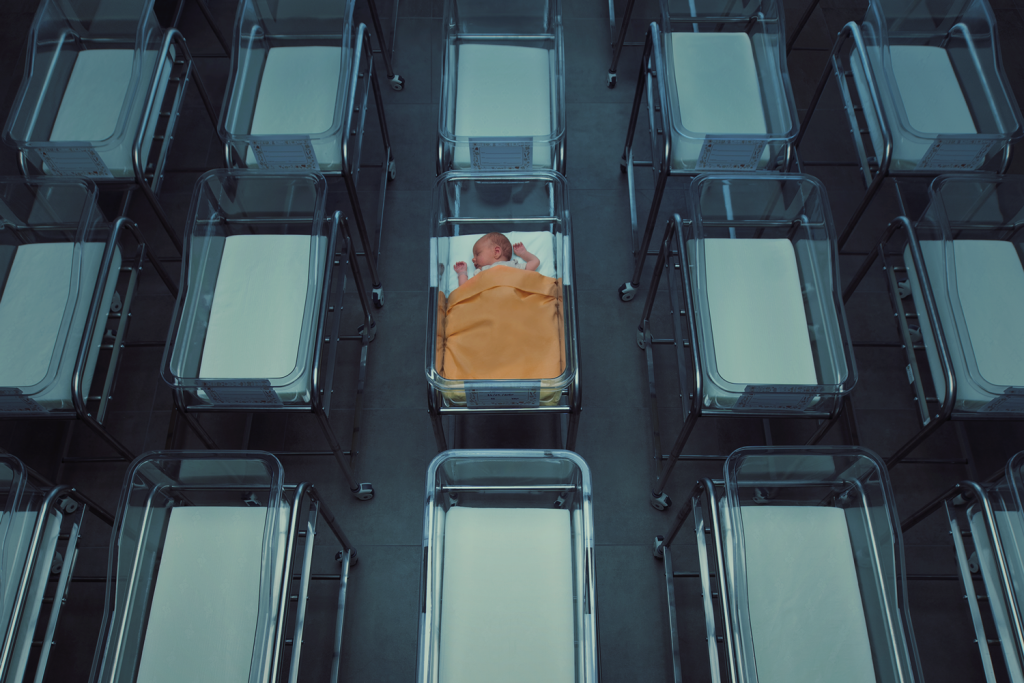 Plasmon, Italy's leading baby food brand, part of The Kraft Heinz Company, has launched Adamo 2050, a true story from the future. The campaign focuses on the story of the last child born in Italy in 2050 following a demographic crisis ignored for decades by the country.
The campaign aims to start a serious conversation to collaborate and introduce national policies that support parenthood while, at the same time, putting pressure on institutions and the Italian government to change the regulations.
Leading the creative is a moving eight minute 'mockumentary' short film 'Adamo' set in the year 2050. Created by independent creative agency DUDE, the aptly named Adamo is a three year old boy, the last child to be born in Italy due to the extinct birth rate. We see how Adamo was born into an empty maternity ward, we meet his 'lonely' new-parents, a midwife and nursery teacher whose jobs no longer exist. Finally, expert Demographer Alessandro Rosina, who had for long predicted this apocalyptic scenario, discusses the consequences of ignoring the problem.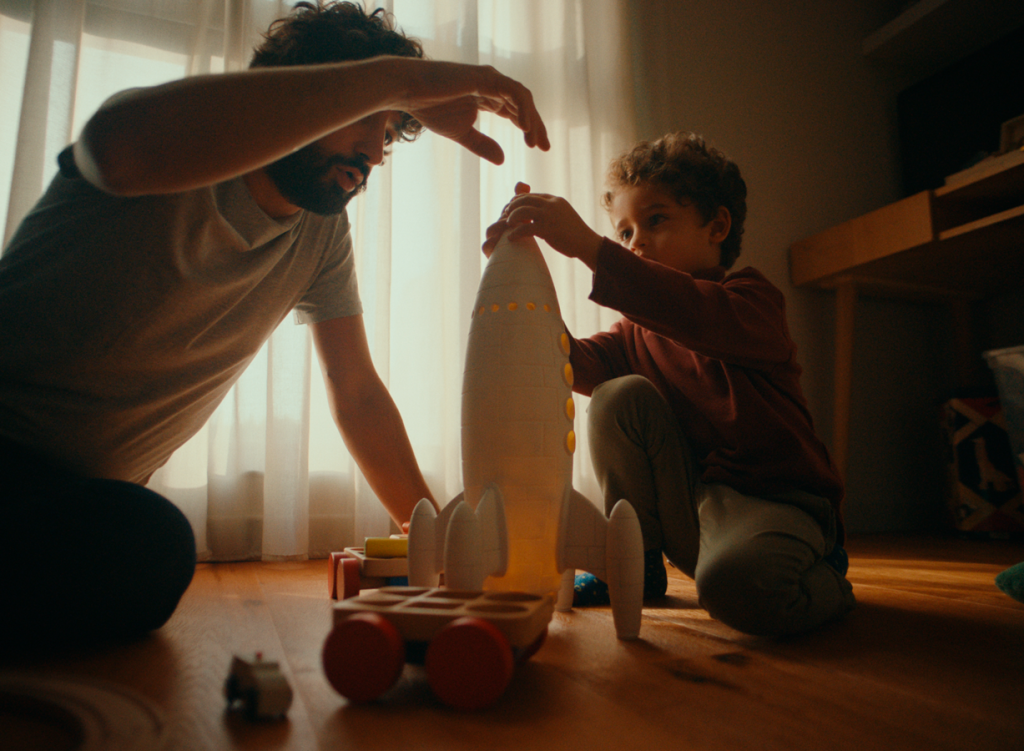 The campaign is supported by website adamo50.com where users can go deep dive into the causes that have led Italy to be last in the European ranking for births. Both individuals and companies can also sign "Adamo's pledge", a collective commitment that will support Plasmon's effort in engaging the institutions and push to change regulations.
Adamo launches with a press conference being held in Milan on 16th February bringing together a team of senior government officials, organisational policy makers and social experts such as Eugenia Maria Roccella (Minister for Family), Giuseppe Sala (Mayor of Milan), Gigi De Palo (President of Birth Foundation), Alessandro Rosina (Professor of Demography and Social Statistics Cattolica University) and Konstantinos Delialis (Managing Director & Vice President Marketing Kraft Heinz). Please see Notes to Editors for the full list of dignitaries.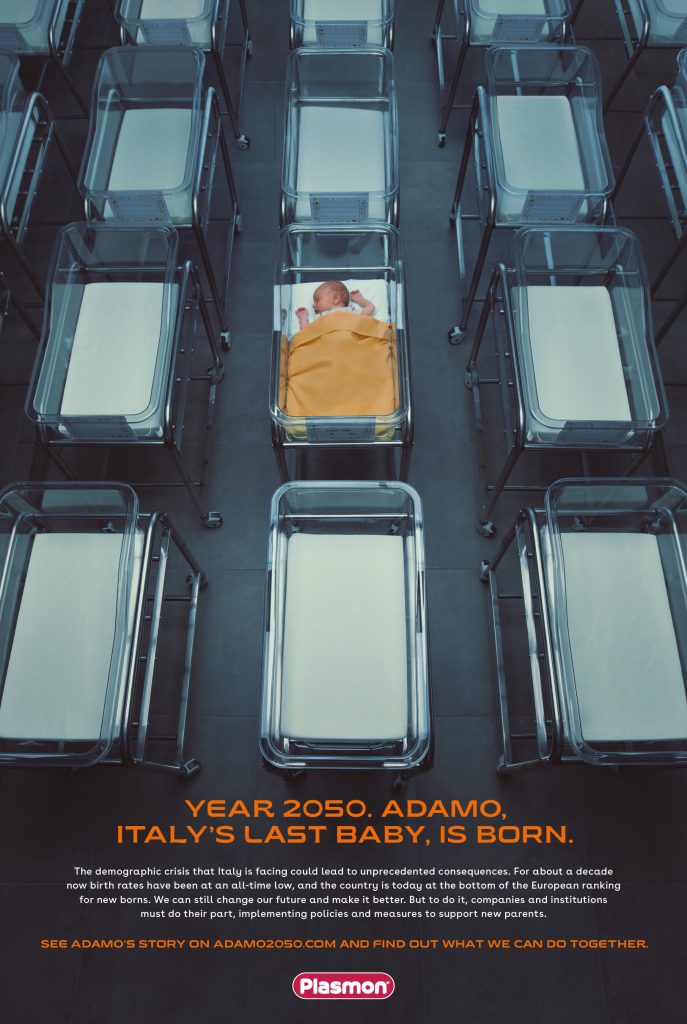 Francesco Meschieri, Head of Marketing at Plasmon, comments: "It is becoming increasingly necessary for brands to take a stand on relevant social issues and start implementing concrete projects to trigger change. Plasmon, which has been at the side of parents in Italy for more than 120 years, cannot consider demographic decline as an exogenous variable and wants to highlight and address the various problems affecting young people and new families. The Adamo 2050 platform has the ambition of bringing both companies and institutions around the same table, with the aim of being able to formulate tangible proposals that guarantee everyone, should they so desire, the possibility of building a family."
Livio Basoli, ECD & Partner at DUDE added: "Every once in a while advertising agencies have the privilege to work with enlightened brands who challenge us to make truly meaningful work. And very few times, in trying to face that challenge, we are lucky enough to stumble on an idea that is both timeless and timely. Ambitious and simple. Necessary and completely unexpected. This is one of those times.

As a country we have been ignoring the demographic winter for too long. Adamo is Plasmon's wake-up call to the whole country and, in particular, to the people who can actually make a difference."
In addition to the film which will live online with versions running on video on demand, social, digital and YouTube channels with a print campaign running in Italys national papers. Media was handled by Dentsu.
Source: DUDE