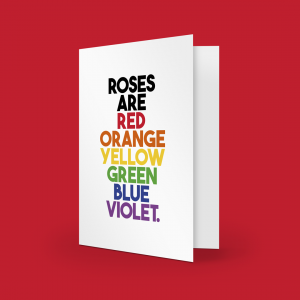 Customer agency LIDA, part of the M&C Saatchi Group, has revealed a range of 40 modern Valentine's cards that it believes fills a gap in a market dominated by old-fashioned romantic clichés.
LIDA has developed the inclusive, contemporary range of cards to appeal to a diverse range of audiences. With a bold typographical style, the cards feature messages including "I'm so into EU" and "I'm so over EU"; "Let's delete Tinder together"; and "I'd cross the river for you". The majority of the cards are designed to be suitable for recipients of any gender and sexuality.
The project is part of LIDA's Make Club initiative, which sees it creating its own products as part of a drive to put creativity at the heart of its business. Proceeds from the sale of the cards will go to Create Arts, the UK's leading charity empowering lives through creative arts.
Ben Golik, Chief Creative Officer, LIDA said of the cards, "As an agency, we say: "We Get People" and this initiative was born out of a desire to create a more inclusive and representative take on Valentine's day – one which is reflective of the times we live in. Our cards are specific enough to resonate with everyone from North Londoners to Brexiteers, Tinder addicts to the lovelorn. We thought about each audience and its needs."
Source: M&C Saatchi Group