Limited Space, the shopping centre media owner, will launch the UK's first in-mall giant rotational digital advertising screen at intu Lakeside with a campaign for the release of Despicable Me 3.
The campaign will be the first of its kind, featuring a 30-second animation specially created for the unique screen. The animation will appear as the screen seamlessly transitions between a landscape and portrait orientation, with the film's lead characters battling for airtime as the screen completes its rotation.
Measuring 7x4m, the screen is the largest available digital screen in UK shopping centres, and is one of three "Showcase Screens", installed and created by screen specialists ADI, at intu Lakeside that overlook the main atrium of the centre.
All three screens use specialised rotational technology to turn simultaneously whilst being able to keep a centralised perspective, and are fully equipped with high definition dynamic display and audio to provide a unique, creative and impactful digital platform.
The campaign runs for two weeks, reaching a total of 19 million people, as part of a national takeover campaign in 29 shopping centres across the country and also includes the installation of a giant inflatable Minion at Bluewater.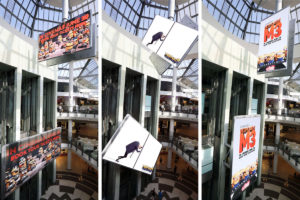 Similar screens are being installed at intu Metrocentre, intu Braehead and intu Merry Hill over the next 3 months as a result of the partnership between intu, Limited Space and ADI. They will be part of a cutting-edge, national responsive digital advertising network, "Orbit". Limited Space will have 20 screens installed by the end of 2017 with a contract value in excess of £30million.
Samantha Sida, C0-founder and CSO of Limited Space, said: "The development of the Orbit network has been two years in the making and we are extremely excited to see this innovation become a reality with our partners Intu Shopping Centres and ADI. We are committed to the creation and development of effective, seamless communication channels that create engaging connections with shoppers and leisure seekers in this lifestyle environment."
Roger Binks, customer experience director at intu, said: "This campaign is certainly going to make our customers smile as part of their visit with us thanks to the combination of innovative technology and the fun nature of the animation. We're rolling out these screens at our intu centres across the UK to give more brands the opportunity to run national campaigns that take advantage of our high footfall destinations."
Source: Limited Space