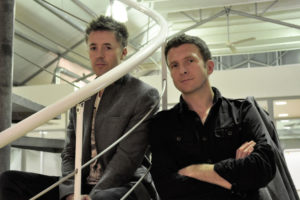 MarComm's Star Parade is a series where we shine the spotlight on some of the global stars from the Marketing and Communications industry, and today we feature Oliver's creative duo Paul Turner and Magnus Thorne.
Paul and Magnus have over 21-years of experience in the industry and have worked with the likes of Coca-Cola, MasterCard, Bacardi and Nescafe between them.
While individually they are stars in their own right, collectively they are probably the industry equivalent of Batman and Robin! We'll let them decide who is Batman and who is Robin in their partnership…
But don't take our word for it! We'll let the 'Dynamic Duo' do the talking for themselves…
Q) Give us a brief insight into your career so far? Including your current job!
A) We've been lucky so far to have gained a pretty much 360 experience of the industry across all different types of creative agency. We did ten or so years at the big traditional ad agencies, but then also got to run creative departments at direct, digital, experiential and promo agencies. It's set us up perfectly for our current role as Creative Directors at Oliver, a very different sort of agency that can take on any sort of project for a huge range of clients.
Q) What according to you is the strongest tool in your skill set?
Paul) I'd say it's the way we can make great ideas buyable. It's a skill that's come with experience. I never understood it for years, I was too much of a 'creative' creative. But learning to translate a great creative idea into something that suits and clients can both understand, see the brilliance in, and get excited about, makes a massive difference. I watch some teams present really strong ideas so badly that they never even get considered. I think a bit of old school salesmanship is a skill that's taken us a long way.
Magnus) I'd say it's opportunity spotting and knowing how to seize those chances. Noting pisses off a client more than ignoring what they want and just offering up what you want. It makes you look arrogant and them look stupid. That is not a winning combination. The smart move is to present what's been asked for, to the very best of your ability, and then also offer up the solution that you think is best. It sounds like common sense but doesn't seem to be common practice.
Q) What is your favourite piece of work that you have created?
P) It differs. We have so many. Our folio is totally overloaded as we find it really hard to take stuff out as every idea in there is great in its own right, and brilliant for different reasons. Even a C4 DM pack we did could be our best piece of work because it's so much harder to do something brilliant in a C4 envelope compared with a medium like film.
Today, I would say my best example is our Turtle Beach stunt for IFAW. It took 4 years to get that idea away, a change of clients, tons of unpaid man hours and loads of favours. And it was just perfect. It won lots of awards but got ignored at D&AD, which I was really sad about. But we got in the following year with a similar project – awards are a lottery, depends on the mood of the jury on any given day. But I think it's still may favourite.
M) I'd agree with Paul but I also love the work we've done with Honest Brew. They are a great brand to work with and totally supportive of great ideas – indeed they've starred in few. And unlike the Turtles they did win awards. Two Golds at The FAB Awards… which I reckon isn't to shabby! Especially when you consider the big hitters and high standards, we're competing against.
P) It's interesting our favourite bits of work are all low budget stuff. I think when you can't throw money at something you have to have a great little idea. It pushes you to be more creative.
Q) What is your favourite piece of work you wish you had done?
M) Being Scottish and a fan of great work, any of the legendary Irn-Bru or Tennants ads that came out of the Leith. Gerry Farrell was an inspiration. I remember walking down Tottenham Court Road and seeing a poster for Irn-Bru, which in itself was surprising enough. But the image of the po-faced country gent with his two lads and the headline: 'I love Irn-Bru and so do my bitches' still makes me laugh!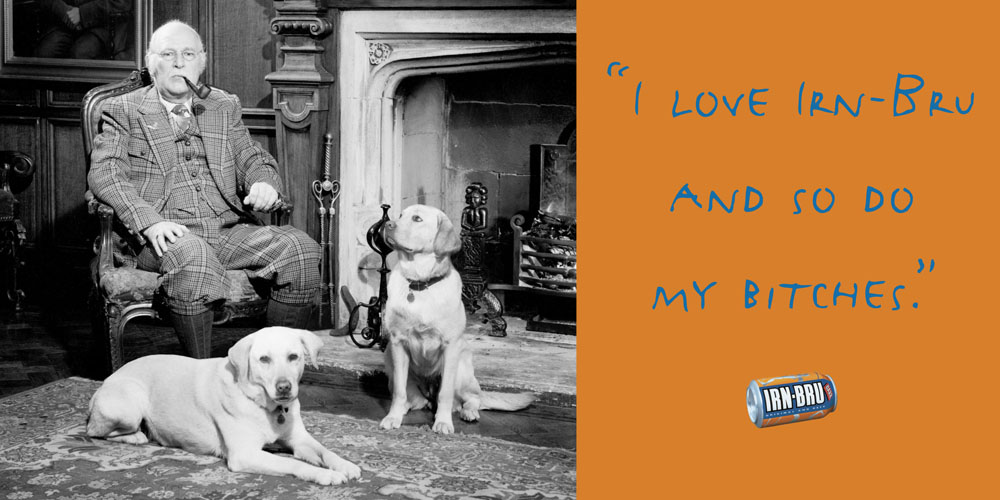 P) I wish I'd written the Tena 'Man of a certain age' campaign. It's just pure brilliance and I can watch those films over and over. And for a Pharma brand, that is such brave work. I worked on this product and never came up with anything close to this.
I also massively admire Bud light's 'Up for anything' as possibly the greatest experiential stunt ever – to do all that for just one punter, so much fun, and it feels like absolutely everything the creative team suggested got put in there – lets get a donkey, super model twins everywhere, Arnie playing table tennis, sure why not. Hats off, they lived the dream on that one.
Q) How would you summarise the industry as it is today?
P) Fast. We're going at such a pace now, it's often difficult to do things as well as they could be done. The pressure is on to do it faster and cheaper, at the sacrifice of better. But there are still brilliant ideas coming out every year, so agencies are managing. On a more positive note, I'm pleased to see humour coming back in a big way. It all got very serious and worthy and lifestyle for a few years – I missed the comedy. I laughed a lot on awards juries last year, which is a great sign.
M) It's a land grab. A bit like the wild west. Where we are now, Oliver, and agencies like it (are there any?) are ripping up the rule sheet. So agencies are desperately trying to define what they do to give them relevance in the market place and it's all getting a bit nasty and defensive. But at the risk of sounding very old school I think what this actually does is put ideas right back at the forefront. Good will always be good and as long as that's your focus you'll keep yourself and clients happy.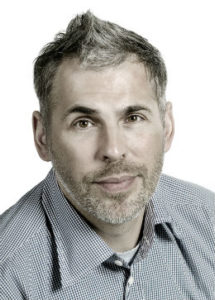 Q) Who (if anyone) has been the greatest influence in your career?
P) An old CCO called Rik Haslam sent me to Cannes for the first time. It was awe inspiring. I didn't see any of the fluff around the festival, I spent 4 days in the dark basements roaming corridors full of hundreds of the best ideas I've ever seen in one place. I photographed everything. So many great concepts it was a bit intimidating.
When you see so much great stuff, all from just one year, you wonder how you can ever compete. But it also gives you such a wonderful benchmark, you can set all your own ideas against. Totally changed how I write, present and think about our work.
M) My old boss Ian Haworth. For loads of reasons, but especially for proving to me that this is about the most fun job you can have. And Andy Booth at VCCP – who is genuinely the most persuasive man in the world.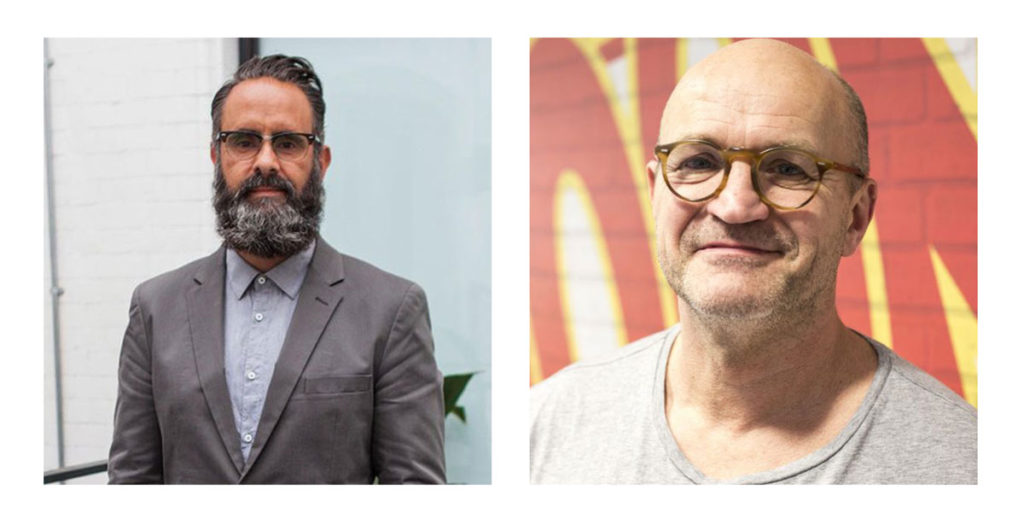 Q) What would you change about the industry, if you could?
P) I'd make all pitches properly paid. If I was a client, I'd pitch every project – you get 5 times the ideas, free. It's just crazy. We invest huge man hours and give away some of our best thinking pitching for work clients have no intention of giving us. The simple solution is to make clients pay fully for the thinking stage, regardless of whether they decide to go with that work or not. Then they'd only pitch if they were genuine, or at least we wouldn't be working for free.
I attended one pitch briefing where the client had called in 50 of the UK's biggest agencies, to pitch for a project that turned out to be worth around £200k. Incredible. The man hours of all those agencies sending up their faces to the midlands for that briefing alone burnt more than £200k. It's got to change. Small agencies who are often the most creative and would do the best job for a client just can't afford to invest enough free time to stand a chance. So accounts just move from one network to another, and the client just gets more of the same.
M)  I'd pay me more and double my holidays.
Q) Tell us something that people wouldn't necessarily know about you?
P) I'm really good at Go Karts.
M) I own a pink suit.
Q) Where would you ideally like to be in your career in the next 5-years?
P) I'd like to be in a position where I can start my own brand and do all my own product innovation and marketing. It's going to be something Eco. Or beer or car related. Maybe a car that runs on organic beer.
M) I'd like to work for Paul at EcoBeerCar, for twice the money with double the holidays.