To support the Ohio Lottery's efforts to grow its Instagram community, Marcus Thomas has transformed the social channel into an interactive platform.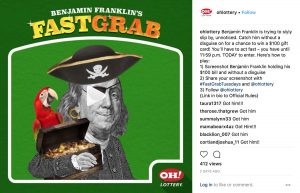 Through a creative campaign launching this summer, consumers have a chance to "catch" Benjamin Franklin by taking a screenshot of him and sharing it on Instagram including #FastGrabTuesdays and tagging @ohlottery for a chance to win a $100 gift card.
The goal of the campaign is to grow the Ohio Lottery's social footprint, particularly on Instagram, and attract new players.
The first challenge went live on Tuesday, July 10, and will continue every week through the remainder of the month. As a socially-driven campaign, it will take place entirely on Instagram with additional promotional support to run on Facebook and Twitter.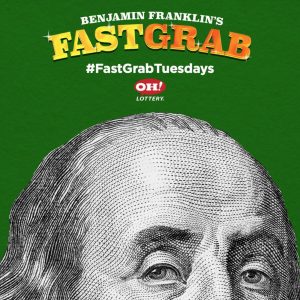 Credits:
Agency: Marcus Thomas
Chief Idea Officer: Joanne Kim
Creative Director: Eric Holman
Art Director: Megan Gannon
Copywriter: Erin McHugh
Producer: Stephanie Recktenwald
Editor: Michael Nichols
Content Creator: Noah Travillian
Studio Artist: Eric Thailing
Source: Marcus Thomas