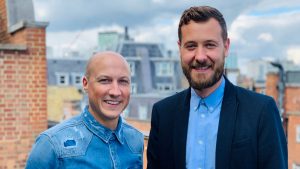 m/SIX, the international media network announced the appointment of Matt Jordan as Head of People for the UK and EMEA. Reporting directly to newly appointed UK and EMEA CEO, Jack Swayne, Jordan's role will work closely with the senior executive team across Europe, driving forward the agency's people and talent agenda.
m/SIX's ambition is to be the most important place in its people's careers, and as clients embrace innovative new agency models – including in-house teams, integrated media and creative, and data driven decision making at their core – Jordan's task will be to continue to build m/SIX's culture and embed its behaviours across the UK and EMEA.
Jordan's career spans over 20 years, during which time he has held roles within some of London's largest advertising agencies. For over two years he worked at Leo Burnett as the Head of Talent, before moving to Ogilvy as Group Head of Talent Acquisition, where he was responsible for each of the 11 operating companies and the hiring requirements of over 1,500 staff. After two and a half years, Jordan went freelance, working for the likes of Digitas and Freuds, before taking on a broad role at Frank as Head of Talent, People and Culture.
Matt Jordan, Head of Talent UK and EMEA, m/SIX said of his appointment, "A lot of businesses talk about being people focussed and values driven, but the sad reality is this is often just a veneer. m/SIX is a business that genuinely recognises the importance of the people within it. We're entering a new, exciting chapter, as we continue to put our great people first who embody our pioneering, energetic and honest culture."
"People development cannot sit separately on the outskirts of an agency. It must be at the very centre, represented as part of the leadership team, and be apparent in everything we do. Matt's experience of developing and nurturing people and culture across media, creative, and PR make him the perfect individual to lead our talent development and culture at m/SIX", said Jack Swayne, UK and EMEA CEO, m/SIX.
Jordan's appointment is effective immediately.
Source: m/SIX