[KGVID width="600″ height="338″]https://marcommnews.com/wp-content/uploads/2015/12/NSA-VHDB077-030_ProRes.mov[/KGVID]
M&C Saatchi has created a new campaign for Virgin Holidays, showcasing the range of worldwide holidays on offer in its January sale.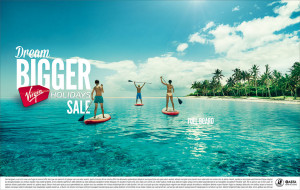 The campaign, entitled Dream Bigger, launches on Boxing Day and will run on TV, press, outdoor, in store, social and online. M&C Saatchi were tasked with creating a campaign that made the 2016 January Sale the best and most engaging yet.
The campaign focuses on the experience that Virgin Holidays can bring, aiming to entice customers who want to experience more for their money. Virgin Holidays' playful and bold character is displayed throughout all aspects of the campaign, as well as the brand's unique take on a holiday.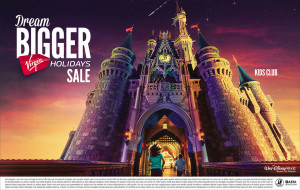 The art direction takes on a new and exciting steer, focusing on dramatic perspectives with grand proportions of scale and space which really hero the destinations. All of this combined differentiates the brand from the atypical cluttered competition market showing sun-kissed folk on generic hotel imagery.
The TVC was shot entirely on a drone by Simon Ratigan, allowing M&C Saatchi to make the most of the ambitious new art direction.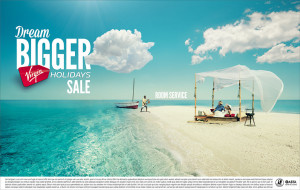 The music sees a classic big track reworked to make it current, with up and coming vocal artist Rae Morris alongside a new orchestral composition.
Media was planned by Manning Gottlieb OMD, with a total spend of £2.8m.
Dan McCormack at M&C Saatchi said "Dream Bigger is an idea that gives you a glimpse of our view on the world. The Virgin Holidays Sale offers epic experiences in exotic locations at competitive prices. It's a classier, more premium affair, which pushes the brand into a different space. Elegant, simplistic, and oh so appealing."