Shell Middle East starts work with M&C Saatchi to change behaviour in Saudi Arabia, by encouraging men to become the most vocal supporters of women driving, when it becomes legal in the Kingdom in June.
Prompted by the overwhelming scepticism demonstrated by many men on social media when the decree was first announced, M&C Saatchi sought to understand the current perceptions and attitudes surrounding the profound change. Insight showed that while women had originally been excited by the decision, many were now feeling intimidated by the doubt surrounding their ability to drive, which had initially been displayed by male audiences.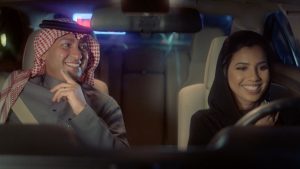 In response, M&C Saatchi and Shell called on five of the Kingdom's most influential figures to help deliver a unified, simple and honest truth: driving isn't a new concept for women. The film saw each influential figure—including Qusai Kheder—discuss the ways in which they've personally witnessed women driving their lives forward, on both personal and national levels. Be it a mother's support, a wife's strength, or sister's inspiring example as a commercial Saudi pilot, these women have all played a part in driving and shaping society.
Sparking debate on YouTube with more than 23k engagements and over 2.6 million views to-date, reactions to the film demonstrate just how drastically the change in law is still perceived by many.
Scott Feasey, CEO & Partner at M&C Saatchi, said: "M&C Saatchi lives by the philosophy of 'Brutal Simplicity of Thought' and wanted this to resonate in the simple message that women all over the world drive us forward every day; their momentum isn't limited to just being behind the wheel of a car. We're thrilled with the film we've delivered for Shell Helix, the responses it has prompted, and the impact it already seems to be having on attitudes toward the Royal Decree. We are looking forward to seeing more women behind the wheel and doing more work that drives change."
M&C Saatchi, hubbed from its two offices in the UAE, works with its clients across the Middle East, including PepsiCo, Abu Dhabi Department of Culture and Tourism, Mashreq Bank, Aldar, Lipton and now Shell.
Source: M&C Saatchi