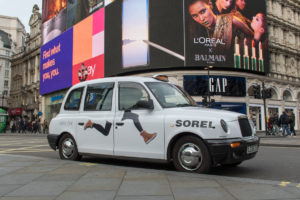 Footwear brand SOREL is working with media agency UM to build awareness around 2017's Stylist Live event in London (10th-12th November). This is the first time SOREL has used any experiential or OOH advertising in the UK and UM advised that SOREL should use interactive formats to better engage with consumers.
SOREL is bringing a branded 180-degree photo booth to its stand to capture the imagination of potential customers and influencers at the event.
Michelle Noschese, European Marketing Manager at SOREL says: "The Stylist Live event is a key date in the calendar for our audience. We wanted to both raise the visibility of the brand and give the public a more tactile experience. An experiential approach puts our products into their hands, which will serve to highlight the quality of our shoes. We secured a spot in pride of place next to the catwalk, plus an exciting 180-degree photo booth to encourage people to visit the stand and have fun."
Whilst getting a prime view of the fashion show from the stand, visitors can also get hands-on experience with the shoes. The photo booth will also give them a Matrix-style memento that they can share on social media.
Lawrence Dodds, planning manager at UM, says: "We've been advising SOREL on digital and print media activity for just over two years, and we felt OOH would help us drive additional impact in market. SOREL is known for its Autumn/Winter collection so it made sense to expand into new formats for the first time during November's high-profile Stylist Live event. Very few people outside of the film and fashion industries have yet had the opportunity to try a 180 degree photo booth. It's made for Instagram and we hope to make a big splash on social media channels with fashion micro-influencers and other influential consumers."
In addition, SOREL has wrapped London taxis in eye-catching branded livery, active across London buses and through print media.
Source: UM