During TechCrunch Disrupt in Berlin, MOIA, the mobility startup from Volkswagen Group, introduced 'MOIA, Social Movement', a comprehensive ride-pooling concept launched just one year after inception of the MOIA startup.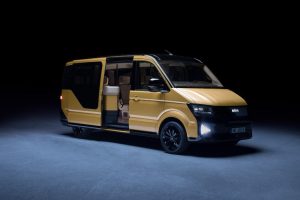 The MOIA initiative provides new mobility options that promise to significantly reduce traffic in major cities. MOIA presented its ride-pooling ecosystem at TechCrunch with the vision to take: "One Million Cars off the Road".
Introduced as 'MOIA, Social Movement', the fully electric car with optimised ride-sharing services is designed to encourage people to overcome their resistance to sharing a ride, thereby reducing the volume of traffic in our cities by a staggering 90%, and improving the quality of our environment.
Innovative design gives the cars a sense of personal space, combined with comfort and accessibility. Minimal waiting time and lower prices than the average taxi, coupled with an eco-friendly electric engine and the capacity to hold up to 6 people, will revolutionise ride pooling and reduce pollution.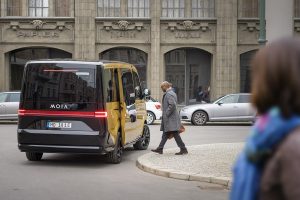 Amsterdam creative agency KRFL created the name, visual identity, branding, VR experience, tagline and the launch campaign for MOIA's electric ride sharing car. As access to the actual vehicle was limited, the agency had to come up with a way for a larger audience to truly experience the interior of the vehicle, and VR was a perfect way to do that. Through VR they had the opportunity to give a full tour of all features and points of interest within the vehicle in an immersive way.
Hesling Reidinga, KRFL Executive Creative Director commented: "MOIA is a big and bold vision for how cities can operate in the future. We needed to kit them out with an equally exciting and bold vision, which we expressed through the line 'social movement' – a vision that shows how mobility can affect everyone, and how everyone's involvement is required if we are to positively change things."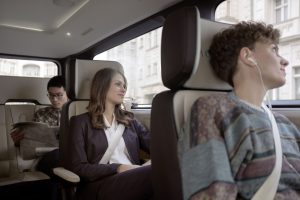 MOIA CEO Ole Harms said: "TechCrunch has been a huge success for MOIA, and we've had great feedback on how our ride-pooling concept has been presented. What started just over a year ago as the shell of an idea has been brought to life in such a vibrant, warm and energetic way – and the team at KRFL have been instrumental in making this happen. KRFL didn't just name us and create our identity – they helped us define our brand, express our core 'social movement' vision and bring our ambition to life with our 'one million cars off the road' promise. And today at TechCrunch Berlin they helped us launch our service with great films, stand design and VR installation."
Initially, the entire ecosystem including the newly designed car will launch in Hamburg at the end of 2018.
"We'll be able to offer the complete ride pooling value chain – as needed or just individual pieces," adds Harms.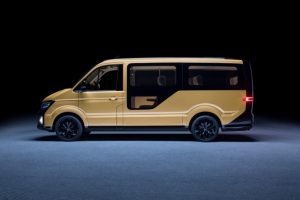 Various operator models will be possible and can be developed together with cities and partners. Volkswagen Commercial Vehicles and Volkswagen Osnabrück planned, developed and built the MOIA car in a record manufacturing time of 10 months. The car has a range of more than 300 kilometers according to WLTP- standard, and can be charged up to 80 percent in about 30 minutes.
"Together with MOIA and VW Osnabrück, we are redefining car manufacturing;" says Eckhard Scholz from the Executive Board of Volkswagen Commercial Vehicles. "We are very proud of the fact that we were able to build a new car specifically tailored to the needs of ride pooling in just ten months."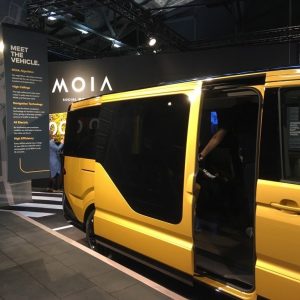 This accomplishment was made possible through the use of agile processes in the Osnabrück plant.
MOIA has been testing its service in Hannover since October 2017 and continuously developing its components in real time. The "MOIA co-creation process" is an integral part of this test, which consists of a fleet of 20 Volkswagen T6 Multivans.
The last missing piece of the complete pooling system is the MOIA car, which was presented to the public for the first time at TechCrunch earlier today. In addition to the car, the system consists of a customer app, which passengers use to book and pay for an MOIA. The app shows which cars are available and how much the ride will cost before a customer books a trip. A pooling algorithm groups passengers with similar destinations together, in order to increase the capacity for each car and to avoid detours. A driver app and comprehensive fleet management completes the system.
Source: KRFL