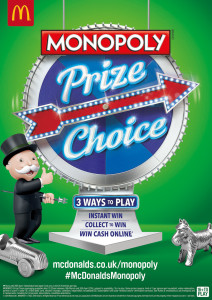 To celebrate the 11th anniversary of the McDonald's and Hasbro partnership, 2016's Monopoly Prize Choice players will have the chance to win over 55 million prizes, the largest pool of prizes McDonald's has ever offered.
McDonald's Monopoly prizes will include millions of food and non-food prizes, with choice at the heart of every win. For example, players can win a holiday and choose between jetting off to California, Thailand or New Zealand, as well as choosing trips and activities to get involved in when they land. Winners of a Mini Cooper, can choose from the 3-door Hatch, Countryman or Clubman and the choice doesn't stop there. We're extending the choice to food prizes as well, with winners choosing between a Big Mac or Quarter Pounder, McFlurry or Cheeseburger, and more.
The Marketing Store developed the campaign concept, after their consumer research showed McDonald's customers cherish life experiences over material possessions. The prize pool has therefore been refreshed with this in mind, with specially selected prizes to ensure winners have an unforgettable experience.
The multimedia campaign showcases choice at every touchpoint, including out of home, packaging, in-store, social posts, community management and website, all designed to bring the concept of choice to life.
Working with Leo Burnett London, choice has been activated through a TV advertising campaign that gives viewers the power to choose what their TV adverts look like each week. Through the use of Twitter polls, viewers can choose from a range of thrilling and daring stunts inspired by the prize pool.
Steve Howells, Head of Marketing at McDonald's, said, "For the eleventh year of McDonald's Monopoly, we wanted to re-invigorate the promotion and make it bigger and better than ever before. With choice at every level of the prize pool, we are empowering our customers by giving them a say in every win; from choosing their holiday destination all the way through to choosing between a Cheeseburger and a McFlurry.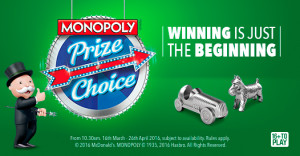 "With millions of prizes to be won, the theme of choice is brought to life across all of our marketing activity, and we are hugely excited to be putting the power in the hands of our customers by allowing them to choose what our next TV advert looks like each week."
Sav Evangelou, Executive Creative Director at The Marketing Store, said, "We aimed to create a brand experience more than a promotion because customers said they loved the experience of gameplay. In 2015 when we gave customers props and prompts like wearable Mr Monopoly moustaches, they captured the experience and shared it across their social networks, so we're keen to see how customers will respond to a campaign that gives them even more to talk about."
Monopoly Prize Choice will build on the success of the 2015 Golden Chances Monopoly game, which awarded a record 9.3 million prizes and delivered 18.5 million online entries.
The Marketing Store will also support the promotion with online and mobile gameplay and offer more ways to engage on social media following last year's 75,000 direct interactions across Twitter and Facebook, and 18m online game plays.
Additionally, McDonald's will run a Monopoly Prize Choice game for McDonald's 100,000 restaurant employees, which will be live in parallel with the consumer promotion.