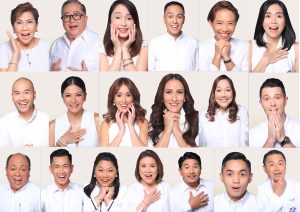 Nestlé NANKID pays tribute to parents around the world as they roll out their global relaunch campaign called "Amazing Possibles". The campaign honors the role of every parent in making their children's every possible happen. 
In the Philippines, the brand took Filipino parents, doctors, and inspiring social impact leaders to the centerstage through The Museum of Amazing Possibles Gala held at the Yuchengco Museum on September 9, 2019. The gallery featured 19 Amazing Possibles stories of Filipino parents, doctors, and individuals who continue to strive to nourish every possible for the children of this generation.
Guests experienced a night of art and awe as they discovered several stories of amazing possibles and how Nestlé NANKID continues to thrive to become the best partner for every parent who wants only the best for their child, now and in the future. They were taken on a journey to discovering amazing possibles through the four exhibits inside the museum:
Memories of Amazing Possibles: A collection of mementos of captured moments of many amazing possibles. The collection features memorable items that evoke nostalgia to amazement in every surprising moment.
Portraits of Amazing Possibles: A gallery that highlights animated captured moments of amazement. Showcasing inspiring stories of greatness behind every emotion.
Stories of Amazing Possibles: An animated collection showcasing inspiring narratives and anecdotes of many amazing possible from humble advocacies to surprising tales of personal greatness.
Partner in Amazing Possibles: An exhibit showcasing Nestlé and its rich heritage of passion in innovating child nutrition. This display showed the brands continuous efforts in providing advanced holistic growth & development, helping parents understand how strong foundations of today nourish a child's every possible now and in the future.
Every portrait and piece at the gallery had its own QR code that guests scanned to see and hear the narrative behind.
In attendance were local influential parents who strive to nourish every possible for their children, health care professionals, leaders in creating social impact, and select media who shared a common commitment to pave the path towards more amazing possibles for the children.
Despite changes in beliefs and mindsets about child-rearing and parenting over the years, Nestlé NANKID has remained unwavering in its commitment to be a partner of parents all over the world in their parenting journey.
Throughout its 150 years of being an ally to parents, the brand has pushed the boundaries of nutrition with its cutting edge innovations, which have had a positive impact on children's immunity, digestion and metabolism, and have created a solid foundation for long-term health.
This helps build the nutritional foundation that children need today to realize all the possibles of tomorrow – whether physical, intellectual, or emotional. 
This 2019, parents can look forward to the best from Nestlé NANKID, as it nourishes their children to achieve every possible in the future.
"We honor parents and doctors for their role in helping their children achieve every amazing possible. We know the depth of emotions that parents experience as their child achieves every milestone, every amazing possible out there. This is why Nestlé NANKID will always be here to provide the nutritional foundation that will make all these happen," said Arlene Tan-Bantoto, Business Executive Officer for Nestlé Infant Nutrition.
Be amazed by your child, for life. Nourish your child's every possible with Nestlé NANKID.
Source: Nestlé