Research unveiled by NABS (National Advertising Benevolent Society) has revealed the continuing challenges faced by working parents in the advertising and media industry: 60% of parents know someone who has left their role because of pressures that come with being a working parent – up from 57% two years ago – while a third (32%) have been made to feel uncomfortable by employers or colleagues about their parenting responsibilities (42% of mothers and 21% of fathers). On top of this, 20% of parents say their employer does not support them at all.
NABS conducted focus groups and in depth interviews as well as a survey of around 600 parents and non-parents working in the sector, covering creative agencies, media agencies and media owners.
As a result of the findings, NABS has announced a suite of specialised services as part of its new Working Parents Initiative. This includes new workshops, webinars, coaching and knowledge sharing platforms, as well as an extensive industry White Paper that aims to help the industry better support parents, facilitating the conversation, and helping to empower change.
Diana Tickell, CEO of NABS said: "Findings from our survey demonstrate that as an industry we have yet to truly appreciate the value that working parents can bring, and find the best ways of supporting them. Because of this, NABS has launched a White Paper, featuring best practice examples from our industry, as well as advice and recommendations on how we can support and get the most from parents and the businesses they work for."
Karen Blackett, NABS' new President said "The evidence for supporting working parents is clear. By improving the wellbeing of industry mums and dads, we will have a happier, healthier and more productive workforce. It will offer businesses a real financial advantage and a tangible competitive edge in attracting and retaining talent – an invaluable trait for businesses looking to retain corporate knowledge and memory.
"Supporting working parents will also create a more diverse workforce, embodying more of the audience advertisers seek to represent. Together we can make a real change that not only makes life easier for our company's mothers and fathers, but also fundamentally improves our working cultures and bottom-lines."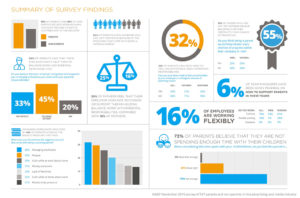 Included in the White Paper are a set of four Recommendations and extensive examples of good practice, which NABS believes offer achievable and actionable changes that organisations can make to better support their parents. The Recommendations are as follows:
1.       Adopt flexible working practices
Embrace changing technologies, management styles and work practices to find ways of making flexible working a mutually beneficial reality within your business.
2.       Train your line managers and leadership teams
Train your line managers and leaders in how to better understand and manage parents within their teams and to recognise the value parents can bring which will also help to minimise staff turnover.
3.       Acknowledge the changing roles of mothers and fathers
Research the cultural and generational changes in parenting roles within your business –as mothers choose to work more and fathers choose to become more involved in parenting – and understand how their changing needs may affect policies and practices within your own organisation.
4.       Introduce culture-changing initiatives that benefit parents and your business, including the creation of working-parent communities and the identification of realistic role models in your company
Introduce practical initiatives that fit with your business objectives, which will facilitate your parent workforce to excel in their roles. Develop a working culture that appreciates the value parents bring amongst teams, leaders and clients. Create collaborative parent support networks within your organisation and identify and champion role models that working parents can relate to.
NABS has also announced a suite of new specialised services as part of its new Working Parents Initiative. This includes webinars, a dedicated web portal for working parents, a new masterclass called 'fathering in the fast lane' and the first ever masterclasses in Manchester. This is alongside NABS' existing programme of masterclasses on overcoming guilt, achieving balance and wellbeing and building your brand as a working parent, as well as one to one coaching and its confidential Advice Line.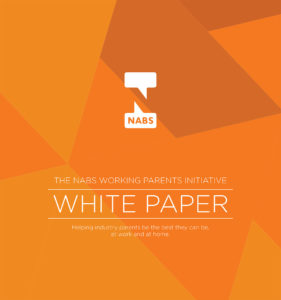 Other findings from the research revealed:
Just a third (33%) of parents believe their employer definitely recognises and supports them in helping to balance their work with their parental responsibilities, while just under half (45%) think their employer does to some extent and 20% say they don't have any help.
This is despite the fact that 89% of parents and 69% of non-parents believe working mums and dads provide a positive contribution to the industry.
Very few managers (6%) had been given specific training on how to manage and support parents in their teams and almost a third (32%) of parents didn't take their full entitlement of maternity or paternity leave. In fact, only seven out of 600 respondents had taken up the opportunity for shared parental leave following the legislation introduced last year. Of the sample, 16% of employees are currently working flexibly, of which only 1% are men were compared with 24% of women.
The study also demonstrated that 73% of working parents believe that they are not spending enough time with their children, and managing workloads (48%) was cited by parents as being the biggest pressure they face. This was followed by fatigue (45%), guilt while at work about neglecting home (39%), money pressures (31%), lack of flexibility (24%), guilt while at home about neglecting work (22%) and relationship pressure (21%).