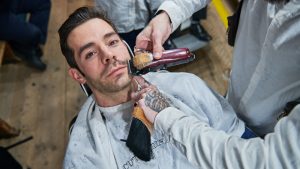 The Sun, the best-selling newspaper in Britain, is donating one penny from every issue sold on Monday 19th November – underlining its commitment to the amazing work of the Movember Foundation as they strive to make a difference for men's health.
The commitment is one element of a rich integrated cross-platform awareness campaign which has seen the Movember squad embed within The Sun's editorial team inside the News UK building – as well as work with TalkSport and The Times – through the month of November.
As suicide remains the biggest killer of men under 49, the partnership between Movember and News UK brands will build on last year's award-winning campaign – raising awareness around some of the biggest health issues faced by men: prostate cancer, testicular cancer, and mental health and suicide prevention.
This year's campaign – again brokered by media agency Bountiful Cow – is set to run across News UK's print and digital channels and will be extended through their video ad technology and data agency, Unruly.
Activity includes:
Print and online activity in The Sun and The Times featuring a series of case studies of people who have lost loved ones
4 videos produced by New Productions and Dream Team, distributed on The Times and The Sun as well as Unruly to the charity's most important audiences featuring Dream Team as well as interviews with individuals and celebrities who have been directly and indirectly affected by mental health, prostate or testicular cancer
Digital takeovers of The Times and The Sun online
Movember Landing page housing all Movember digital content both commercial and editorial
Shave Down event celebrating Movember's deadline day with talkSPORT's presenter Jim White broadcasting live his mid-morning show from a Soho Barber shop
Spot The Ball competitions in print in The Sun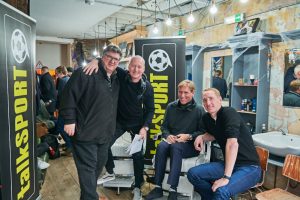 The campaign kicked off on the 31st of October with the Great British Shave Off at a Barber shop in Soho. TOWIE star Charlie King, ex-owner of Crystal Palace FC Simon Jordan, and ex-footballers Clarke Carlisle, Neville Southall and Chris Kirkland were amongst those who pledged support. This year's multifaceted campaign was conceived and brokered by communications agency Bountiful Cow.
Mark Field, Director of Bridge Studio, commented: "It's an absolute pleasure to have Movember partner with News UK after the success of our year one activity. Not only is it a cause we really believe in, but this collaboration plays to our strengths in terms of creative activations that engage the huge audiences that News UK reach. It's a profound privilege to be able to shine a spotlight on issues we need to talk about much more."
Juliette Smith, CMO, Movember Foundation, adds: "Men's health is in crisis, and this year's partnership puts our cause at the heart of the campaign, telling people why growing a moustache and raising funds is needed. We have been given a unique opportunity to sit on the editorial floor which means we are really part of the News UK team, every day we are able to collaborate on stories & content to keep fuelling the 30-day journey. There is a real buzz about this year's campaign and all indicators are positive, and importantly we have generated lots of great conversations about men's health, though now it's about ensuring as many people raise as much money as possible and get those donations coming in."
Henry Daglish, Founder, Bountiful Cow, concludes: "We are incredibly proud to be involved in making men's health part of the national agenda once again with our friends at Movember and The Bridge Studio. This partnership is yet another significant step towards realising the true power of collaboration when it comes to driving meaningful results for our clients and industry partners."
Source: News UK