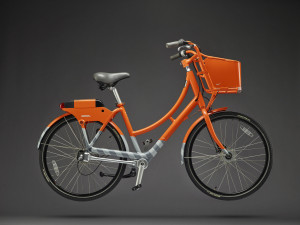 For more than 40 years, Nike has called the greater Portland area home. Beyond centering its headquarters in the region, the company has both committed to and developed strong ties within the community.
"We're proud of our long history of partnership with the City of Portland and believe that the Biketown bike share program is one more example of how we can work together to help make Portland an even more active, vibrant and innovative community – goals Nike and the City of Portland share," said Nike Vice President of Global Community Impact Jorge Casimiro.
Nike extends this heritage through a new partnership with the City of Portland, including the Portland Bureau of Transportation, as the sole sponsor of the City of Portland Bike Share Program called Biketown. The partnership, which includes $10 million over five years, will increase the number of bikes in the Portland Bike Share Program from the 600 that were initially planned to 1,000. Additionally, Nike is contributing designs for Biketown's stations, the visual bike identity and digital branding.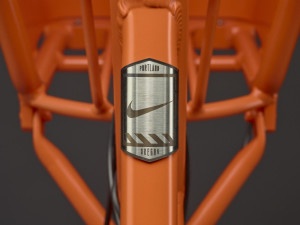 The Biketown bikes will be Nike Orange, a colour that has been synonymous with Nike since 1971, when founder Phil Knight and his first employee Jeff Johnson introduced the hue on the shoebox of the first shoe to bear the brand's trademark Swoosh.
It wasn't until 1989, however, that Orange was labeled the company's official signature color. Today, an orange shoebox is instantly identifiable as "Nike." The bikes of Biketown are a direct extension of this icon, with the baskets on the front of the bikes even designed to look like shoeboxes.
The bright wraps also serve a safety purpose and include strategically placed, complementary reflective gray tape and logos. Additional, limited-edition bike wrap designs unique to Nike will be released periodically, celebrating Nike and Portland's shared spirit of invention.
The City of Portland's Bike Share program is scheduled to launch in July.