Advertising and content agency Therapy, announced the third annual iteration of their award winning "Save Our Stuff," TV advertising campaign aimed at getting millennials to recycle more – this time focused on aluminium and commissioned by North London Waste Authority.
The ad itself, "Tin Man", combines classic 1970s synth track 'Popcorn', a unique and entertaining bedroom dance performance and a truly ridiculous level of aluminium foil wastage.
The previous years' comms focused on plastic and glass. The activity is built around research that shows traditional recycling messages haven't resonated strongly enough with millennials – and that this demographic are the worst of all age groups when it comes to recycling.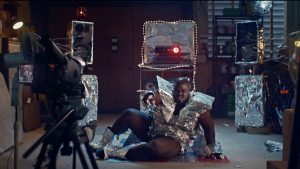 The campaign aims to increase awareness and interest in aluminium recycling amongst millennials across North London.
The videos will run on Sky TV, using AdSmart targeting to ensure they reach the homes of consumers in the target boroughs. The content will also be pushed out as online video pre-roll and via social media advertising to maximise exposure and sharing amongst young people in North London.
Therapy's previous Save Our Stuff campaigns have already seen marked success. More than a third of north Londoners surveyed spontaneously recalled having seen the advertising, while 59% who were shown the first ad reported that they 'would think about recycling more in the future'.
An online microsite hub is also supporting the campaign, providing interesting content as well as further information on recycling in the different boroughs. Along with the YouTube video the links to the hub will be distributed via dedicated campaign on Facebook, Twitter and Instagram.
Royston Reeves, Strategy Director at Therapy, added: "Our first campaigns focused on the value of what was being thrown away and what a world without plastic and glass could look like. This time, we went for a more visual take on wastage. The message the Authority's trying to convey is incredibly important, but we needed to find a way of delivering the message imaginatively and freshly."
Source: Therapy