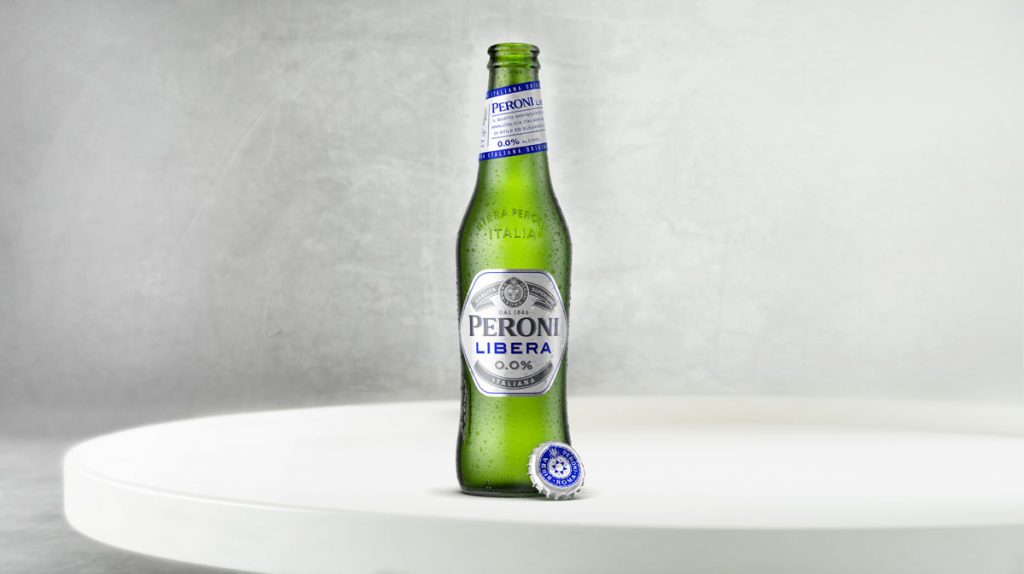 Super-premium Italian beer brand Peroni Nastro Azzurro is launching its first alcohol-free beer, Peroni Libera 0.0%, with identity and packaging developed by Nude Brand Creation.
The newest addition to the Italian beer brand's portfolio, Peroni Libera 0.0% will offer a stylish, alcohol free alternative to the world of beer. It is not about removing alcohol, but enjoying life lived fully.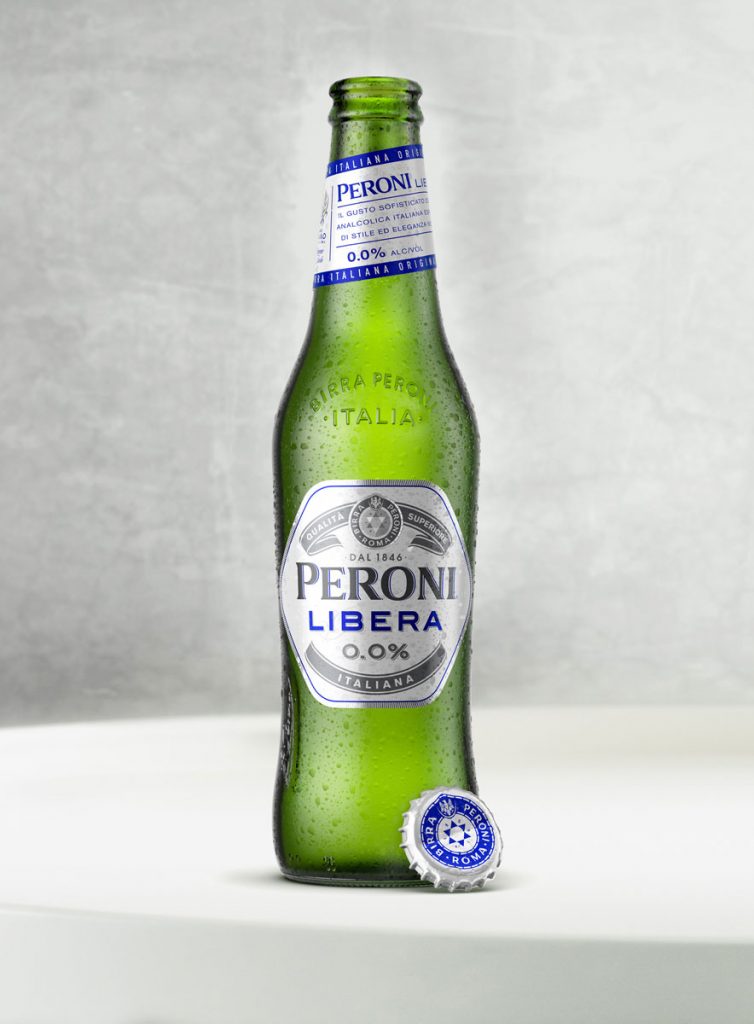 Peroni Nastro Azzurro recently launched its first brand renovation in more than a decade, with new identity and packaging by Nude Brand Creation. New Peroni Libera 0.0% uses the same sleek and stylish new bottle and iconography.
The design includes the new Peroni wordmarque. It also retains references to the brand's rich Italian history including the provenance of Rome and the 1846 founded date. The alchemy symbol at the center of the crest takes inspiration from the original emblem that appeared on the very first Peroni bottles.
The iconic Amaretti is also retained with the ribbons surrounding the central elements. The hexagonal label on the bottle combines the perfect mix of Roman provenance and Italian stylish modernity, inspired by the shape at the heart of the original Peroni crest.
To clearly differentiate from Peroni Nastro Azzurro, Peroni Libera 0.0% introduces a new colour palette including a mix of refreshing silvers and greys. The new colour combination suggests a lighter and more moderate drinking experience but without any compromise on taste or quality. The colours are combined with blue as a link back to Peroni Nastro Azzurro plus some of the category codes of no-alcohol beer.
The design also includes prominent 'Libera' branding and clear communication of the 0.0% alcohol content.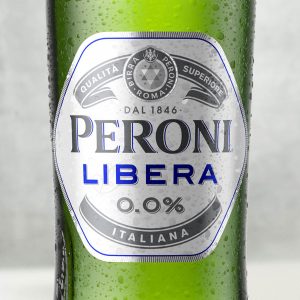 Peroni Libera, meaning 'free' in Italian, is a light-bodied 0% beer, meticulously brewed with the same Peroni craftsmanship, passion and flair. The taste is described as a rich and intense aroma of flavours where citrusy and hoppy notes are followed by a delicate fruity aroma. Peroni Libera 0.0% promises to bring a stylish alternative to the non-alcoholic segment through quality ingredients, advanced brewing methods and positive messaging around a balanced lifestyle with or without alcohol.
Tony Enoch, Creative Partner at Nude Brand Creation said "Peroni Libera 0.0% is an exciting new offering from Peroni, especially as people are more regularly considering low- and no-alcohol drinks alternatives but don't want to compromise on enjoyment. The design uses many of the current equities for a reassurance on quality, but the change in colour and addition of a sub-brand name clearly communicate something different."
The new beverage is now available in the UK, exclusively at Tesco stores.
Source: Nude Brand Creation