Seeking a fun and clever way to play off holiday tropes and traditions, Merrell's in-house team collaborated with multi-faceted global production company 1stAveMachine to create a festive campaign with scenes centered on Merrell shoes.
Two 15-second videos are running socially on Snapchat, Pinterest, TikTok, Meta and YouTube, featuring Merrellville, population 2,500.
In "Sledding," viewers see an animated snow-packed village with holiday gifts under an evergreen tree. Kids gleefully slide down a hill, hit a bump and go flying as the bump is revealed to be a hibernating bear. The kids are safely caught by mom and dad as the ursine creature (in stocking cap) gets its, um, bearings. The snowpack cracks and gives way to reveal that it is a Merrell boot to appreciative laughter from the crowd. Copy is superimposed: "Merrell all the way."
In "Townsquare," a moose peeks out from behind a signpost that declares, "Welcome to Merrellville, population 2500 mini people." Said people bring ladders and boxes of lights into the town square on which sits a giant boot. They decorate the footwear with lights and a giant ape plugs the lights into an extension cord as the crowd roars, and the boot is lit up for the holidays.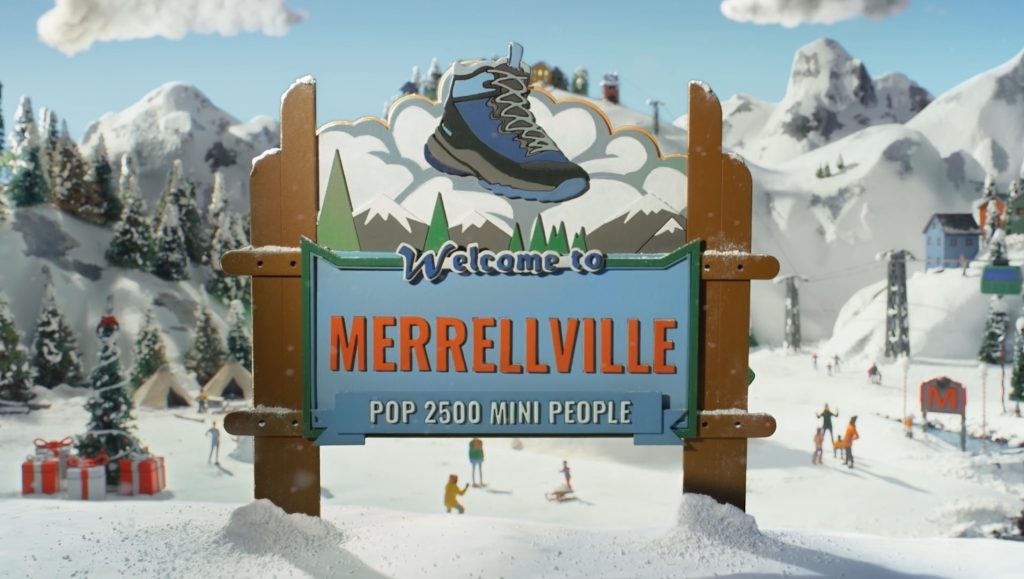 "This season, we put a Merrell spin on those all-too-familiar holiday phrases and traditions as a joyful reminder that there's no place like the outdoors for the holidays," said Kelly Warkentien, Merrell senior creative director at Merrell. "Our creative team brought Merrellville to life through a world of miniatures with the team at 1stAveMachine."
Both :15s are being executed across digital sales channels, including social, search and display, in email, on Merrell.com, out of home, in the retailer's stores and in the stores of several retail partners.
"One of the greatest challenges when shooting a :15 with such a creative script is leaving things out, so we were laser-focused on the details of the illustrations," said Mariano Bergara, director of the spots. "We wanted each character to wear the exact right Merrell gear, down to the correct colors. We 3D-modeled every tiny human, animal and mystical being, printed them out, hand-painted them and voila."
Source: 1stAveMachine