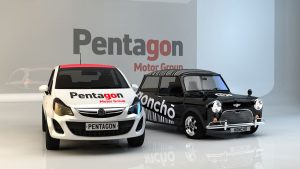 Pentagon Motor Group has appointed Honcho – the specialist automotive search marketing agency – to oversee digital marketing across its multi-franchise operations.
The Hertfordshire-based business will be responsible for driving Pentagon's visibility through its search engine optimisation (SEO), pay per click (PPC) and content marketing services.
Pentagon represents 14 car brands from 33 showrooms across the East Midlands and North of England. This partnership will enable Pentagon to maximise its investment in the digital marketing of new and used cars and support the group's wider business development goals.
Speaking about the new deal, Jonathan Lingham, Pentagon's Head of Marketing, said; "Honcho has formed a close partnership with our marketing team and has very quickly helped us elevate our PPC and SEO performance. Our PPC cost-per-sale is down and our conversion of organic traffic has increased. In the short time working together so far, they have exceeded our expectations in every metric."
Pentagon joins a growing list of the UK's biggest car retailers, including Group 1 Automotive and Renault Retail Group, who are benefitting from Honcho's approach to digital marketing.
"We manage the digital marketing of over 130 dealerships across the UK and are delighted to share our learnings and experience with Pentagon to deliver the best possible online experience for the group and its customers," said Syed Ali, Honcho's Head of Performance.
"Our research shows that over a third of car buyers start their research on a search engine, so retailers who are visible in Google are going to see higher website traffic and greater conversions. In a highly competitive new and used car market, it is critical for retailers to have a fully optimised online presence to boost performance results," he said.
The Pentagon contract follows Honcho's recent rebrand which saw the agency commit to its automotive heritage and affirm its specialism and leading position within this industry as an automotive search marketing specialist.
Source: Honcho