Perkbox, UK's fastest growing employee benefits platform has partnered with SEMrush, the online marketing suite, to examine the most trending 'millennial' online searches related to the workplace. The findings represent searches from 2015-17 for both the US and the UK.
Over the last few years, millennials have been in the spotlight, there's no denying it. Only in 2017 the phrase 'what do millennials want at work?' was searched 3,600 times in the UK. In the US, on the other hand, 'how do millennials want to work and live?' increased from zero searches in 2015 to 15,900 in 2016 and 13,400 in 2017.
What are underlying issues? Online searches with keyword 'millennials' reveal the following: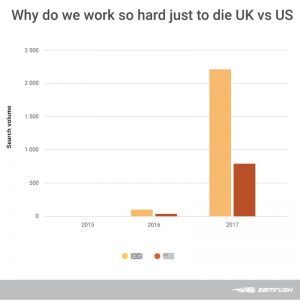 The UK seems most concerned about millennials' health. 'Why are millennials so depressed?' appears amongst the top UK online searches by keyword 'millennials' with an average of 2,800 searches over the last year. In the US, on the other hand, searches are nearly two times lower for that question during the same time period.
What the US seems most worried about however, also impacts motivation. They've simply gone off on a different tangent – laziness. 'Why are millennials so lazy?' tops US online searches about millennials over the last three years (2015-17). The average number of searches was 2,227 a year.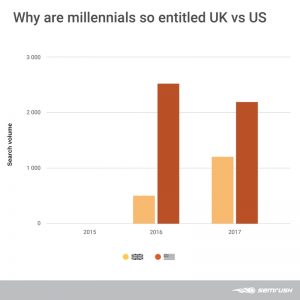 'Entitlement' trends also vary differently in both regions. In the UK the search phrase 'why are millennials so entitled?' grew on average by 140% during 2016-17 whilst in the US searches decreased by 13.15% over the same time period.
"There's certainly no shortage of headlines about millennials searching for jobs that offer a strong sense of meaning and that's the underlying problem here: without a purpose employees feel lost. The findings show this very clearly – millennials lack the right sort of incentives at work, they're struggling to find that true sense of purpose they're after and as a result they come across as depressed or lazy. They become unhappy, unmotivated and start focusing just on making money or getting through their day so that they can get on with hobbies and outside interests," said Chieu Cao, Co-founder and CMO at Perkbox.
"Our findings reveal that the question 'Why do we work so hard just to die?' was searched 2,200 times on average in the UK over the last year. Not only is this significantly higher than the US average (which is 790), but it's shocking that it made it to the top 'work' related questions searched on Google. It's totally unsustainable to have our next generation this demotivated. We need to take action."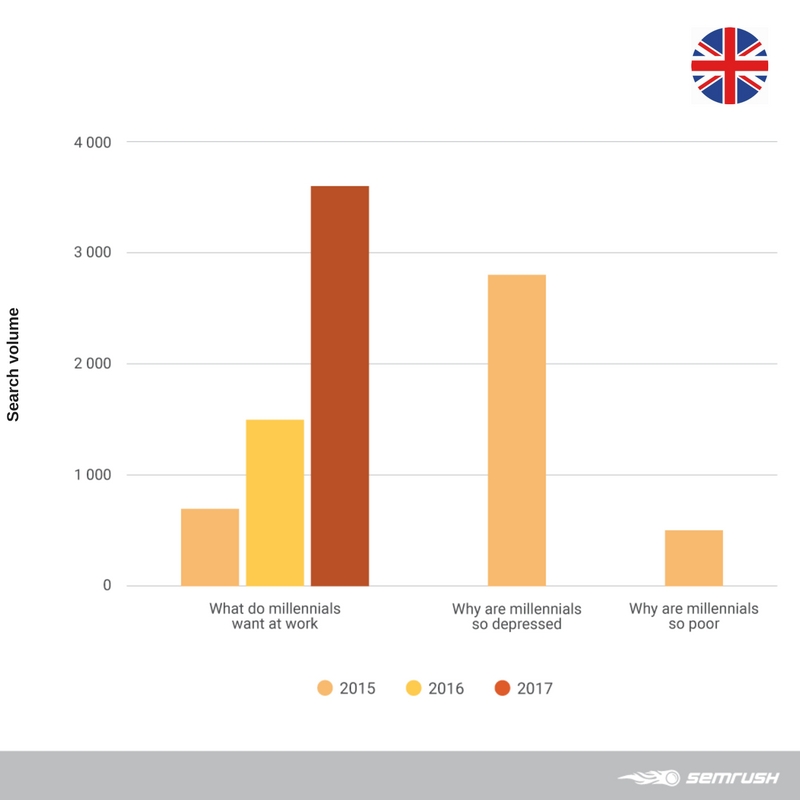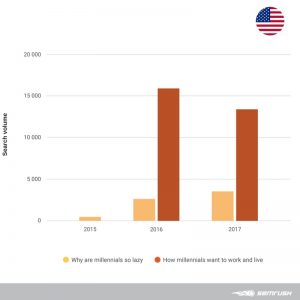 Source: SEMrush