Pizza Hut Delivery and Iris have launched a new digital campaign. The campaign, entitled 'Too good to be true, but true' is the second installment of the successful 'Now That's Delivering' brand platform created by Pizza Hut Delivery and Iris in January 2019.
The campaign focuses on Pizza Hut Delivery's amazing '£5 Favourites Menu' which offers medium sized pizzas and sides for just £5 each – a deal that is so good, some consumers have struggled to believe it's true. 'Too good to be true, but true' aims to set them straight and features the return of brand ambassador Parker J Patterson and introduces his 'Pants of Truth'.
In the hero film Parker J Patterson presents a series of untruths, beginning with 'professional footballers are underpaid' and a series of truths that highlight the great value of the £5 Favourites Menu. 'The liar liar pants on fire Pants of Truth' catch fire when hearing the lies, but stay perfectly intact when presented with the truths of the '£5 Favourites Menu'.
The campaign builds on (and references) the "Toppling Dominos" campaign from the beginning of the year.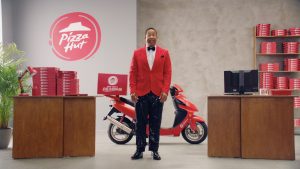 Beverly D'Cruz, Pizza Hut UK CMO, commented: "The consumer response to our first campaign was incredible. Our next challenge was to demonstrate how we can use our platform to communicate our commitment to delivering unbeatable value. This latest installment is designed to do just that with the same playfulness as the original film."
Ian Bradbury, Managing Partner at Iris, said: "Too Good to Be True, But True, is about hitting a consumer misconception head-on. £5 Favourites is a genuinely amazing deal we wanted to highlight that in an entertaining way."
Directed by Fatal Farm, the campaign launches with a 70" hero spot. The hero film is supported by a series of 6" retargeting assets, designed to be timely interventions to disrupt consumers when they're on autopilot ordering from Domino's.
The films will go live across YouTube, Facebook, Instagram, Twitter, Twitch and Tabmo. Agile handled the production, with Navigate handling the media.
Source: Iris