Joker is a game run by the State Lotteries Agency (Loterías y Apuestas del Estado) associated with La Primitiva, the main feature of which is that one in five gets a prize.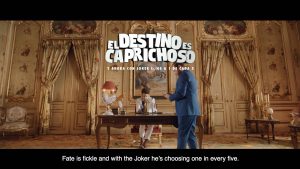 To spread the word about La Primitiva Joker, creative agency Proximity Madrid, used two characters created for La Primitiva: Mr Fate and his secretary.
This time, Mr Fate isn't thrilled with all the extra work he has with this new game, which is giving him nightmares. In fact, whenever he doesn't fancy doing something, he uses the excuse that he is far too busy. Because with the La Primitiva Joker, one in five, gets a prize.
Credits: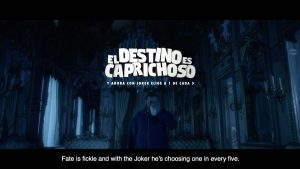 Tittle: "Fate is fickle and with the Joker he's choosing one in every five."
Advertising Agency: Proximity, Madrid, Spain
Global Chief Creative Officer: Eva Santos
Executive Creative Director: Susana Pérez
Creative Director: David Vijil
Creative Supervisor: Raúl Somaza, Fernando Esteban
Art Directors: José Luis Díez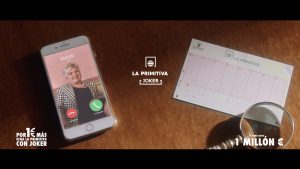 Executive Account Director: Cristina Esteras
Brands Group Director: Javier Arranz
Account Director: Sandra Cabrera
Account Executive: Esla de Murga
Head of Production: Gemma Selga
Communications Director: Laura Carrillo
Production Company: Pueblo Films
Director: Augusto G. Zapiola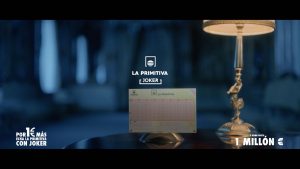 Executive Producer: Toni Martínez
Producer: Vanesa San Millén
DoP: Pablo Hernández
Editor: David López
Post production Company: El Ranchito
Audio Company: Bigotes
Sound Production: Sonomedia
Source: Proximity Madrid