Red Havas, the micronetwork of merged media agencies, today published its 2023 Red Sky Predictions report, which examines and boldly predicts how the field of marketing and communications will evolve in 10 pivotal ways in the coming year.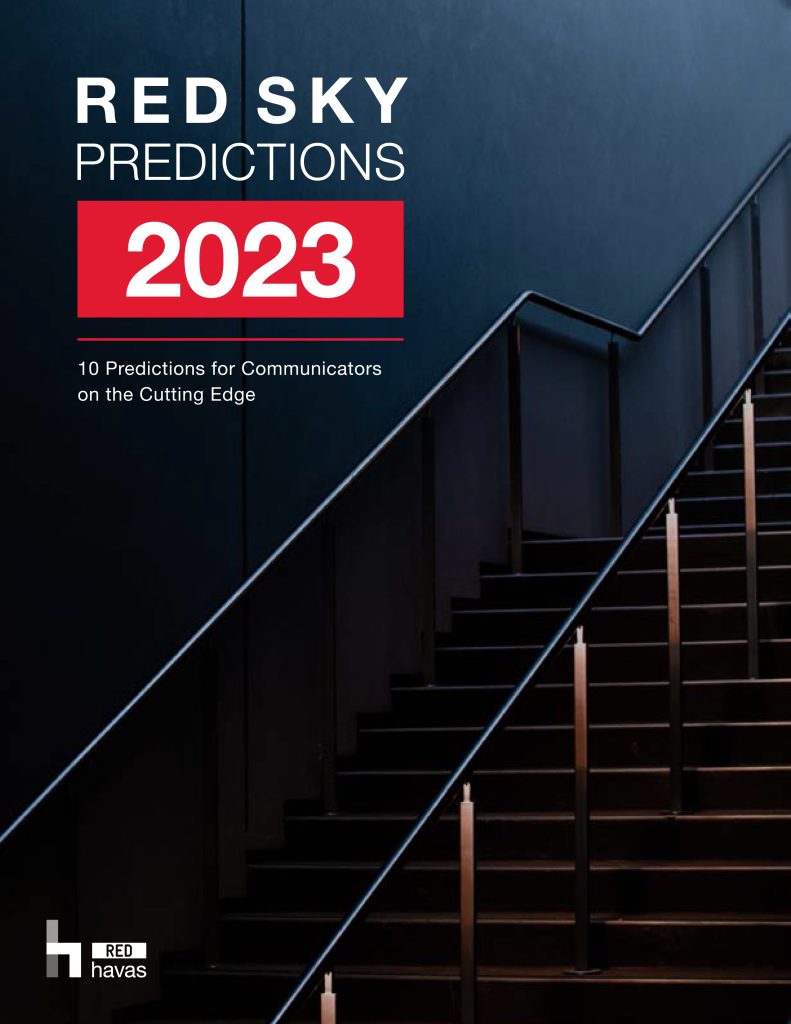 It's a wild time to be alive. Around us, wars are being waged. The pandemic continues. Our climate is its own battlefield. The economy and cost of living is hurting. Many of us are traumatized, outraged and despairing over the state of social, racial, reproductive and criminal justice. When we pick up our phones — which we do constantly — we're confronted by headlines about these things and more. It's no wonder peace, and inner peace, eludes so many of us now, making us feel unsettled and even unsafe. This is what our report explores.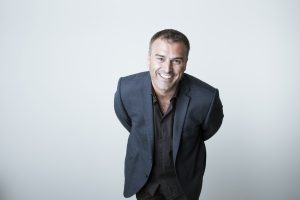 "Each year, we work with our Havas and Vivendi colleagues, clients, partners, as well as our friends in academia and the media to shape our Red Sky Predictions report that will help our clients navigate changing circumstances and difficult conversations with grace — and foresight," says James Wright, global CEO of Red Havas and global chairman of the Havas PR Global Collective. "Our predictions envision the world as it is and as we want it to be, from key conversations around climate, values and mental health to the metaverse, reproductive rights and much more, so we can better connect with the people and organizations we want to reach in the coming year."
The 2023 Red Sky Predictions are as follows:
ROWING BACK IN THE WAKE OF ROE V. WADE
Companies will need to extend their ESG strategy to include a proactive framework for navigating highly charged political waters in a way that supports and complements their business strategy, especially with those issues that matter to their key stakeholders internally and externally.
MALICE, MANIPULATION AND OPPORTUNITY IN THE METAVERSE
We'll have to build confidence and trust among key stakeholders for brands that will want to have a meaningful presence in the metaverse, and ensure the security of the people and data that enter. Governments will also need to heed what we have learned from the social media space and get on the front foot with rules and regulations.
VIRAL HEALTHCARE MISINFORMATION EXPOSED
Improving individual health literacy and equity will become a greater focus as misinformation surrounding health conditions increases. Artificial intelligence, similar technology tools and digital health literacy efforts are positioned to play a key role in disrupting the viral nature of misinformation.
CLIMATE CHANGE-D
The conversation around climate change will continue to change — in the media, in politics, within corporations and amongst the general public — moving away from denial and toward demand, as more climate events occur, the costs of inaction become clearer and more get on board with taking a stand.
BRAND VALUES TO INCREASE IN VALUE
As the impacts of global economic and geopolitical uncertainty really start to bite, purpose-aligned brands will be the ones that succeed at talent retention and attraction and supporting sales enablement. But it's going to be an increasingly competitive space as brands across all categories compete for share of voice and mind.
THE DIGITAL DIVIDE AND GREATER SOCIAL SEPARATION
More campaigns and activations will consider how to reach populations that we have left behind with the acceleration of digital during the pandemic, causing an increased emphasis on user experience, education and awareness about digital inclusion, as well as (re)consideration of more direct interface interactions for services.
NEWS TAKES ON NEW SOCIAL SHAPES
Every brand is increasingly seen as a news brand and will be expected to help its audience by providing meaningful social content that equips them with new knowledge or tools. In addition, brands will be more careful about the platforms they use, thinking as much about brand loyalty and love as they do about reputational risk.
HERE, THERE, EVERYWHERE: THE HYBRID QUANDARY
As people exert further control over their preferences for the ways, times and places in which they work and live, employers, retailers, landlords and homeowners will need to think creatively about what it means to design with flexibility. We predict more customized spaces that encourage collaboration, relaxation and team building.
OUR MENTAL FITNESS MUSCLES ARE FLEXED (FINALLY)
Mental fitness is finally at the forefront, and we expect it to be embraced further, being viewed through the same lens as physical health — and soon it could become a requirement in schools like physical education. We'll also see a greater investment in mental health services by governments, businesses, communities and individuals.
BEHIND-THE-BRAND (BTB) TAKES SOCIAL BY STORM
2023 is the year in which BTB will become a staple theme in every content marketing strategy. Both B2C and B2B marketers will prioritize all forms of people-led content production, from employee- and customer-advocacy programs to influencer co-creation and serialized branded content production — as authentic-by-design social storytelling becomes the new norm.
This year's report was authored by Red Havas staffers from around the world, including James Wright, global CEO, Red Havas and global chairman, Havas PR Global Collective; Lisa Davidson, managing partner, health; Matt Thomas, managing partner, corporate and public affairs; Linda Descano, CFA®, EVP and head, corporate communications and executive visibility; Lesley Sillaman, SVP, global; Davitha Tiller, EVP, social and integration; Mark Campbell, global head of content (content creative officer); Melissa Rieger, SVP, health and wellness practice head; Ellen Mallernee, VP of content; Audrey Arbogast, AVP; Stacey Federoff, senior account executive; and Jonathan Maginn, consultant, health.
Source: Red Havas Group