[KGVID width="600″ height="338″]https://marcommnews.com/wp-content/uploads/2016/01/Republic-Day-Film-English-Subtitle_Low.mp4[/KGVID]
On the eve of Republic day in India, Rediffusion Y&R and its Brand Partner Videocon, urged fellow Indians to flag off change. Done via a digital film, its objective revolves around: "Teach them, Change Them."
The film set up is in an office, where an old man (teacher) asks a clerk on the progress of his file; to which the clerk casually replies that it is stuck in the same place. The clerk begins to explain to the old man on how being a teacher he should already understand the science behind the car running on petrol and that it is very important to fuel the file and increase its weight in order to fasten the work. The old man is dazed yet stays poised.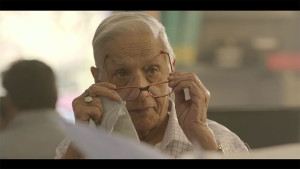 Thereafter, upon peon serving the tea, the clerk asks the peon to serve the tea to the old man so that we can understand the significance of "chai-paani". The old man subsequently asks the clerk for his file, and expresses his willingness to increase the weight of the file to which the clerk smiles and takes out the file from the heap and points out that the tea worked.
The old man puts something inside the file and returns it back to the clerk. The clerk takes it and contentedly tells the old man that the weight has increased only to find the tricolour flag lying inside. The old man adds that he isn't sure whether the file's weight has increased however his shoulder definitely has some heavy responsibilities to take on. The film ends on the musical notes of the national anthem.
This film tied together with the theme #FlagoffChange is momentous and carries a reflective message.
Jaideep Mahajan – NCH, Rediffusion Y&R quotes: "Technology is all about bringing positive change. But this Republic Day, we chose to talk about positive change of a different kind; the kind that we'd like to spark for a better India. And, who better to start this conversation than a brand that's truly Indian.
Pranav Harihar Sharma, ECD – West & North and director, Rediffusion Y&R said, "You rarely get these kinds of scripts to execute. And though the budget for the film was really minuscule but only on the sheer basis of the script people came on board for free. I tried my best to keep the story in film zone and not commercial. We kept the shots organic and camera in classic locked frames. Actors were asked to hold on the dialogues and delay the delivery. I had the dream cast which made my job easier. I'm glad to have directed this gem."
Credits
President: Dhunji S. Wadia
CCO: Rahul Jauhari
NCH: Jaideep Mahajan
ECD, North West: Pranav Harihar Sharma
Creative Team: Kapil Rana, Bhuvan Sharma, Gobinda Bhowal
Art Director: Sharpline Art
Head of Operations, Delhi: Suman Varma
Director: Pranav Harihar Sharma
Executive Producer: Ricky Singh Bedi, Sandeep Patil
Music Director: Hanif Shaikh
DOP: Akhilesh Shrivastava
1st AD: Manas Thakker
2nd AD: Mrinal
Accounts: Kayam Khan, Haider