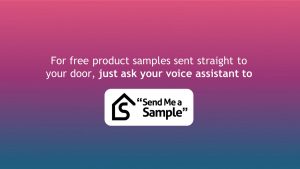 Send Me A Sample has announced five new hires across its UK and US offices, as the world's first and only voice-activated sampling programme continues to expand globally.
Send Me A Sample's hires include James Leung as product manager (previously senior product manager at Hostmaker), Simon McLoughlin as director of operations (previously regional head of operations, APAC at Geometry Global) and Kate Birtwistle as UK director (previously client director at Capture).
In the US, Send Me A Sample has hired Manuel Fuentes as general manager, previously senior East Coast director of sales at Apple and Thinknear. Alongside Fuentes, Dasha Alekseyeva joins Send Me A Sample as client success manager. The duo will work together to oversee Send Me A Sample's growth in the USA as the platform rides on the success of recent projects including Nutella and Butterfinger.
The mass hires come in light of Send Me A Sample's rapid growth since its September inception and its US launch earlier this year.
"Voice is growing at an exponential rate, with Alexa speakers being the biggest single selling item on Amazon last Christmas. Teamed with the fact voice adoption is growing at twice the rate smartphones did 10 years ago, and more brands are looking to develop their voice strategies, you can see why we have to expand so fast," said Richard Hill, co-founder of Send Me A Sample.
"Since our launch in September last year, we've delivered successful campaigns for the likes of Coca-Cola, Benefit Cosmetics and Nutella. Through these projects, we've amassed a database of well over 150,000 consumers, which has led to a huge level of interest from global brands across the UK, USA and other European markets. With such rapid growth and an increasingly expanding pipeline, we needed to strengthen the team to match. Expect to see more as Send Me A Sample continues to grow over 2019."
Both UK and US teams will report into co-founders Richard Hill and Will Glynn-Jones.
Source: Send Me A Sample