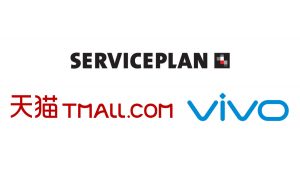 Serviceplan China have won Tmall and VIVO business with pitch teams led by Chief Creative Officer Chongkin, and Managing Directors Marcus Ma and Bernard Wong.
VIVO is one of China's mobile phone giants and their products have launched globally. VIVO have a good market share in Southern Asia and Russia. Serviceplan Greater China have won the new product V12 launch campaign.
Tmall (formerly Taobao Mall), is a Chinese-language website for Business to consumer (B2C) online retail, part of the Alibaba Group and operated in China by them. Tmall is a platform for local Chinese and international businesses to sell brand name goods to consumers in mainland China, Hong Kong, Macau and Taiwan. Tmall is the world's 2nd biggest eCommerce website after Taobao with over 500 million active users monthly, and the world's 9th most visited website according to Alexa.
Serviceplan China have won the business for the Tmall 'Hot Shopping List' – the best selling products and hot items from different categories to different age groups, and the 'Tmall Super Brand Day Campaign', Which promotes limited edition items and products from most of big brands to consumers.
Chongkin, Serviceplan Greater China Chief Creative Officer commented: "It always feels great to win new business, and we are looking forward to proving Serviceplan China's BIG PRODUCT philosophy, which can help clients to build their brand and product together at once through our collaboration."
Source: Serviceplan Group