[KGVID width="600″ height="338″]https://marcommnews.com/wp-content/uploads/2016/05/BRO_SKPR064_040_YouTube.mp4[/KGVID]
Sky has launched a major new campaign recognising the nation's obsession with box sets, showing just how 'Addictively Good' Sky Box Sets are. The campaign comprises: TV advertising; press; outdoor; social and digital.
Created by Brothers and Sisters, the campaign takes a comical look at the inner conflicts faced by everyone who's been hooked on a great box set. The 40-second TV spot features a man torn between watching another episode of Billions, the new hit show from the US, or going to bed. Idris Elba plays his inner voice, nudging him to watch just one more episode. The ad will run on digital channels with bespoke films for social media.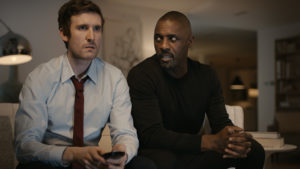 The print ads delve into further conflicts that people experience when they're hooked on a box set, using insights such as 'The dishes can wait 58 minutes' and 'You can go to the gym tomorrow'. They showcase some of Sky's most addictive box sets, which include Game of Thrones, True Blood and True Detective. The print ads will run on 96-, 48-, 6- and D6-sheets, as well as bespoke large formats.
The campaign broke on 12 May, coinciding with the UK launch of Sky Atlantic's Billions. Every episode of the brand new show is available exclusively on Sky Box Sets to fuel people's love of back-to-back viewing.
Will Flack and Aaron Willmer were the Creative Directors on the campaign. Andy Fowler was Executive Creative Director. It was directed by Vaughan Arnell at Moxie Pictures. Mediacom is handling media planning and buying.