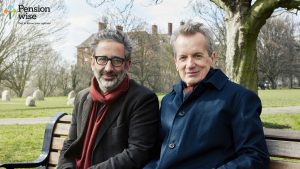 Government pension guidance service Pension Wise is to launch a tongue-in-cheek campaign with comedic companions David Baddiel and Frank Skinner.
The campaign, which launches on March 30, brings the comedians together on TV again and aims to get people thinking about pensions with a witty fly-on-the-wall style dialogue. The creative encourages adults over 50 years old to find out about their pension options.
Sky Media was selected as the media partner to create and launch the two 30-second TV commercials which will be aired across Sky Media's portfolio of 150 channels which includes all of Sky's well known channels as well as other famous brands including Channel 5, Discovery, Universal and Fox. The first few spots will launch during Sky Arts' Portrait Artist of the Year, which is presented by Frank Skinner. The creatives, which were developed by creative agency Recipe, will air until 30th April.
The campaign will also be delivered via Sky's Addressable TV service Sky AdSmart, which will specifically target relevant age and demographics that match Pension Wise's ideal audience.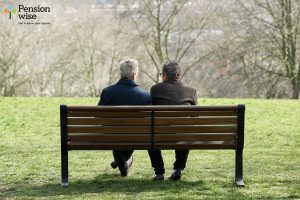 Sky Media won the Pension Wise brief following a competitive pitch positioning its comedic talent and breadth of channels as key ways in which to drive audience engagement with the brand. Carat was responsible for the media buying for the campaign, and Wavemaker handled media planning.
David Baddiel said, "It's great to work with Frank again, even on something where the basic message is 'we're old'."
Duncan Wynn, Sales Director at Sky Media, said, "With great comedic talent, we've been able to inject humour into the typically dry subject of pensions to make this important issue relatable to the right audience. TV gives the scale and trusted environment Pension Wise need to build their brand – and Sky AdSmart delivers robust targeting to ensure the over 50s get to know the Pension Wise brand."
Catriona McGrath, Head of Marketing and Communications at Pension Wise said, "We know that people don't want to think about their pensions, but with David and Frank's funny delivery, and the fact that they aren't getting any younger themselves, we hope to get people to do just that. Sky Media was the best fit for us as its scale and fantastic talent will help to put Pension Wise front of mind for those considering their pension options and needing free, impartial guidance."
Source: Sky Media