SMARTY, the sim-only mobile network that gives money back on unused data, has launched new hidden camera video stunt, 'The Corner Shop', to investigate the public's ability to spot a good deal.
Accompanied by commentary from the recognisable voice of Come Dine with Me's Dave Lamb, the hidden camera style video shows the behaviour of customers in their local corner shop.
Starting with just a few neon discount stickers that you would find in a typical corner shop, the store becomes increasingly plastered with blatant sale stickers and in-your-face discount signs – with the shopkeeper even asking customers to "ask for a discount".
The comedic film captures customer reaction to the signs and their internal battles as to whether to ask for a discount or not. Despite the pronounced signage and even a fluorescent 'Wacky Waving Inflatable Arm Flailing Tube Man', the film shows how people can miss the best deals in life, even if they're right in front of them.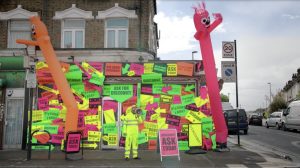 The film aims to bring to life SMARTY's mission to put the trust back into the mobile network industry by doing things properly. Low costs, straightforward plans, transparent pricing and flexible deals – SMARTY even offers money back for the data their customers don't use.
SMARTY Head of Marketing, Sayed Hajamaideen says: "We are a customer focused network and our aim is to engage our customers in new and exciting ways. The Corner Shop narrative boldly brings to life our ethos of encouraging people to shop around for the best deals, and only pay for what they use in terms of data. Sometimes we miss the best deals that are right in front of us, calling for a more direct approach."
The Corner Shop film marks the launch of SMARTY's '25% off for life' offer on the Unlimited plan. That's an incredible £18.75 (normally £25) for unlimited data, unlimited calls and texts and no speed restrictions, all on a 1-month plan – for life! Discount data plans are already available from £6.25 for 1GB (£7.50 for 2GB, £10 for 4GB or £15 for 8GB), all of which include unlimited calls and texts, and with money back for unused data.
The fully-integrated campaign by Gravity Road will run across Facebook, YouTube and Instagram, and will be shown in 30s, 95s and 2:14s versions.
Source: Gravity Road