Nat Geo WILD's recent campaign for their annual SharkFest, the network's counter-programming competitor to Discovery Channel's Shark Week, is gaining attention with their recently released promo featuring Olympic swimmer Ryan Lochte.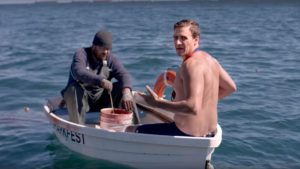 The funny, self-deprecating promo was directed by Jordan Brady of Superlounge, and embraces the network's "second best" attitude.
Following the news that Michael Phelps would be involved with Shark Week, Nat Geo WILD formulated the idea and got Lochte on board. They then took the story to Brady at Superlounge, who finessed the comedy of the spot by squeezing Lochte and the 'chum guy' into a teeny boat.
Now, the campaign is creating some buzz around the "no. 2 week of sharks on television." TV Guide says the campaign is "hilarious" and PromaxBDA calls it a "comedic juxtaposition to Discovery's number one "Shark Week."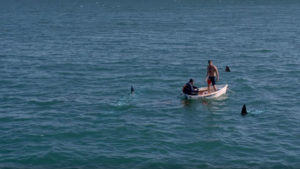 Director, Jordan Brady comments: "I saw the humour in having Ryan speaking to the chum guy and tapped my long-time collaborator Arsenal Creative to add CG shark fins. The appearance of sharks was crucial. They nailed it. We shot on a boat with a jib arm to get the camera close to the picture boat. It had to look like we were in rough waters that were plausible for sharks."
Catch the Lochte promo on TV during SharkFest, beginning July 23 on Nat Geo WILD.
Source: Superlounge