New research from advertising agency Telegraph Hill highlights that celebrity chefs and restaurateurs don't have it all their own way in the list of most influential UK foodies. Those appearing in the full top 50 list are ranked by the level of influence they have on changing the nation's tastes and eating habits or starting food trends. While celebrity chef Jamie Oliver tops the list, online nutrition guru, 'the Body Coach' Joe Wicks sneaks into the number two spot just ahead of serial entrepreneur Julian Metcalfe and 'Great British Bake Off' judge Paul Hollywood. Food bloggers, lifestyle experts, supermarket bosses and fast food delivery entrepreneurs also make their presence felt in the list.
 Telegraph Hill, carried out the analysis using its unique TrueScore tool. This tool evaluates influencers based on their real-world power, online activity, and presence in traditional media (such as newspapers and TV), reputation and brand strength.
According to the findings, the top 50 foodies in the UK are: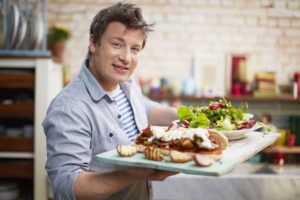 1.       Jamie Oliver MBE, celebrity chef, TV presenter and author
2.      Joe Wicks, blogger and nutritionist, The Body Coach
3.      Julian Metcalfe OBE, founder of Metcalfe's Food Company, itsu  and  co-founder of Pret a Manger
4.      Paul Hollywood, celebrity baker and judge on The Great British Bake Off
5.      Andy Clarke, CEO, Asda
6.      Dave Lewis, CEO, Tesco
7.      Rob Collins, CEO, Waitrose
8.     James Martin, chef and presenter, Saturday Kitchen
9.    Gordon Ramsay OBE, celebrity chef, TV presenter and author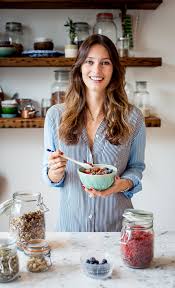 10.   Ella Woodward, blogger, Deliciously Ella
11.   Mike Coupe, CEO, Sainsbury's
12.   Jimmy Doherty, farmer and presenter of Jimmy's Farm
13.   Dave Buttress, CEO, just eat
14.   Nigella Lawson, celebrity cook and TV presenter
15.   David Potts, CEO, Morrisons
16.   Rick Stein OBE, celebrity chef, restauranteur and TV presenter
17.   Jack Monroe, activist, author,  food blogger, Cooking on a Bootstrap
18.   Ronny Gottschlich, managing director, Lidl UK
19.   Matthew Barnes, CEO, Aldi UK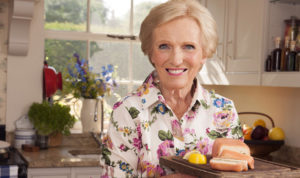 20.   Mary Berry CBE, food writer, TV presenter and judge on The Great British Bake Off
21.   Yotam Ottolenghi, cookery writer and restauranteur
22.   Gino D'Acampo, Italian born celebrity chef and media personality
23.   Tom Kerridge, TV chef and owner of The Hand and Flowers, the first pub to receive two Michelin stars
24.   Hugh Fearnley-Whittingstall, multi-award-winning writer and broadcaster
25.   Dominik Richter, Founder and Chief Executive Officer of HelloFresh, a delivery service which provides all the ingredients to cook recipes from scratch
26.   Madeline Shaw, blogger, nutritionist and author of Get The Glow
27.   Nigel Slater, Author, columnist, diarist and programme maker
28.   Tim Steiner, founding Chief Executive Officer of Ocado
29.   Symmetry Breakfast, In 2013 Michael Zee started taking pictures of the breakfasts he made for his boyfriend Mark. Three years on he has over half a million Instagram followers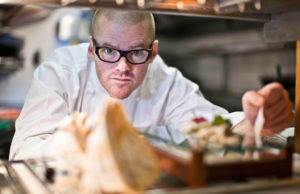 30.   Heston Blumenthal OBE, celebrity chef and scientist
31.   Amelia Freer, nutritional therapist and author of the Eat and Nourish Glow books, known as 'nutritionist to the stars'
32.   Dannii Martin, award-winning author of Hungry, Healthy, Happy, a blog about healthy eating, exercise and weight loss. 
33.   Dan Doherty, executive chef at Duck & Waffle
34.   Tom and Henry Herbert from Hobbs House Bakery,  Tom is a master baker who runs Hobbs House Bakery. His brother Henry runs the Hobbs House Butchery next door. They also have a TV show -The Fabulous Baker Brothers
35.   Anna Jones, cook and writer, trained by Jamie Oliver, Anna now specialises in vegetarian recipes
36.   Nadiya Hussain, won The Great British Bake Off in 2015. She is now a columnist for The Times Magazine and Essentials. She baked the Queen's 90th birthday cake
37.   Claire Ptak, owner of East London bakery-café Violet. She is a food writer, food and prop stylist, recipe developer and consultant
38.   Hairy Bikers, Si King and Dave Myers have fronted over 20 TV series and after shedding six stone they founded a weight-loss club 'The Hairy Bikers' Diet Club'
39.   Jay Rayner, the Observer's restaurant critic, a Masterchef judge and the resident food pundit on The One Show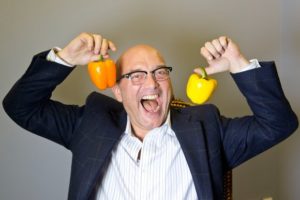 40.   Gregg Wallace, writer, TV personality and former greengrocer. He is best known for co-presenting MasterChef, Celebrity MasterChef and MasterChef: The Professionals
41.   John Torode, Australian chef best known for presenting MasterChef and Celebrity MasterChef
42.   Simon Rimmer, self-taught chef, co-host of Something for the Weekend and Sunday Brunch
43.   Anthony Fletcher, CEO of snackbox company Graze
44.   Edd Kimber, baker, blogger (theboywhobakes), social media influencer, food writer, TV personality and author of three cookbooks. He was the Great British Bake Off's first winner
45.   Angela Hartnett MBE, Chef and Restauranteur, known for her sophisticated yet simple, Italian-inspired cooking, as seen at her restaurant Murano
46.   Izy Hossack, blogger and food science student. Since her early teens, Hossack has been developing recipes, styling and photographing them and recording the results on topwithcinnamon.com
47.   Thomasina Miers, former MasterChef winner, cook, writer and television presenter. She is the founder of the Wahaca chain of Mexican street food restaurants
48.   Will Shu, former investment banker who co-founder Deliveroo
49.   Aine Carlin, blogger, author and influential vegan who promotes a big-group sharing-food approach on her vegan blog peasoupeats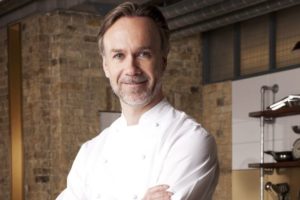 50.   Marcus Wareing, MasterChef Judge and Chef Patron of the two Michelin-starred restaurant Marcus
Chris Moon, head of insights & analytics at Telegraph Hill, said: "Jamie Oliver is already well known as a powerhouse when it comes to influencing our food choices, but the arrival of Joe Wicks practically out of nowhere really shows the immense impact of social media.
 "He has nearly a million followers on Instagram and thousands of fans on other channels, as well as the books and TV shows the other more traditional gurus have. He is generating a lot of chat this year online and his diet is already one of the biggest food trends of 2016. That means a lot of people are talking about him on TV and in print as well.
 "Paul Hollywood is another influencer with a huge social media following, which puts him ahead of fellow Great British Bake Off judge Mary Berry."
 He continues: "Influencers can lead to consumers changing their eating habits, but at the end of the day supermarkets also have huge power when it comes to stocking what we want to eat and affecting the price of food.
"Food is such an important part of our lifestyle that those businesses are listening to what people want and reacting accordingly. This is why influencers have such an important role to play in making us healthier and happier."
More detail on the research:
The research included more than 2,000 individual measurements split into three equally-weighted categories, including:
Online: Presence; frequency and quality of content; number of followers; and objectives of their social media channels
Offline: Ability to affect the laws, price or availability of food; appearance in offline channels such as books and TV; and the objectives of those media
Brand Strength: The number of social mentions of themselves and/or their brand; amount of mentions online returned in the last year; increase or decrease in mentions in the last year; are they known as a spokesperson for an area of the industry; creators of original material such as diets, etc.