On National Coming Out Day (October 11) in the Philippines, The Cakeshop by Sonja and its beneficiary LoveYourself Foundation, celebrated with the LGBTQ+ community through the launch of its "My 2nd First Birthday" campaign.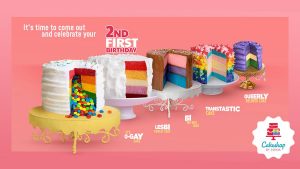 The advocacy aims to celebrate the second time a person recognises his/her/their new gender identity in a bid to renew lives, push for acceptance, give pride and celebrate genuine love in society. The recently unveiled campaign launched a short film featuring celebrity fashion stylist, Vince Uy, and introduced a special line of cakes, which features designs and colours inspired by the LGBTQ+ community. 
Sonja Ocampo, the bakeshop's owner and founder, shares her view on this unique colourful day: "I think '2nd first birthday' is just us owning who we are whoever that is – I mean we try sometimes to hide that part of ourselves but we forget that that's what makes us unique is just about celebrating that one and fully accepting who we are and being proud of it. All the cake designs are interchangeable, what matters is obviously the inside which would represent the particular flag for that particular gender that you want to reveal about yourself".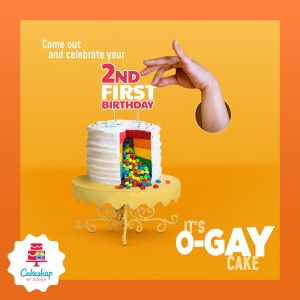 Paul Junio, the Digital Strategy / Brand Management Head from LoveYourself Foundation— a community that advocates pride and self-love adds, "The campaign celebrates the diverse identities of the LGBTQ+ community. It gives us the chance to affirm our commitment to acceptance and inclusivity in our society. I feel this campaign will further normalise conversations about people celebrating their unique identities to the point that they don't need to have a 'coming out' moment anymore".
The special line of cakes introduced by Ocampo were creatively inspired and diversely representing the LGBTQ+ community. Included in the line-up are: "O-Gay Cake", a chiffon layered cake with a surprise of chocolate nibbles inside; the "Les-bi honest Cake" which is slathered with marshmallow icing; and the "BI-the way", "Transtastic" and "Queerly beloved" which are pound cakes covered with thick butter cream with colourful layers inside representing the different LGBTQ+ flags. A portion of each sale of the cakes will go to LoveYourself Foundation in their mission to provide aid to HIV+ patients.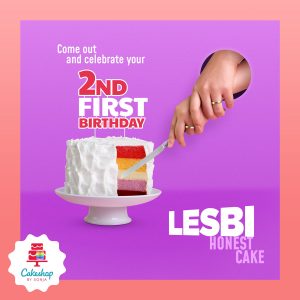 Apart from the cakes, a vertical film was also launched. Directed by Merlee Jayme of Dentsu Jayme Syfu, the video showcases the birthday celebration of different individuals across all genders. This short film celebrates everyone embracing their identities, true to the purpose of National Coming Out day. Famed influencer and stylist, Vince Uy, was also involved in the short film. 
Ocampo reiterates her vision for her bakeshop, "We try to be inclusive. It's our business towards our customers, (and) we try to welcome everybody. We want to encourage them to be themselves and to find the things that make them happy. I'm proud that we could help in our own little way".
"Some people feel afraid to celebrate who they truly are. Sometimes in life we need to take a leap of faith, and sometimes the greatest rewards come from having faith that everything will fall into the right place," says Junio. "Learn to love yourself. There's no other way to put it but loving yourself is a whole lot process by itself but learning to do it can do many things for your life, and that includes celebrating who you are".
With a slice of sweetness and colour, this campaign aims to institutionalise the existence of this special day not just in the Philippines, but even in the world, by inspiring courage and acceptance in the community. 
Source: The Cakeshop by Sonja