The Gate London has created "The Flag We Shouldn't Be Proud Of" for Gay Times Magazine and Switchboard to raise awareness of LGBTQ+ youth suicide ahead of World Suicide Prevention Day on the 10th September.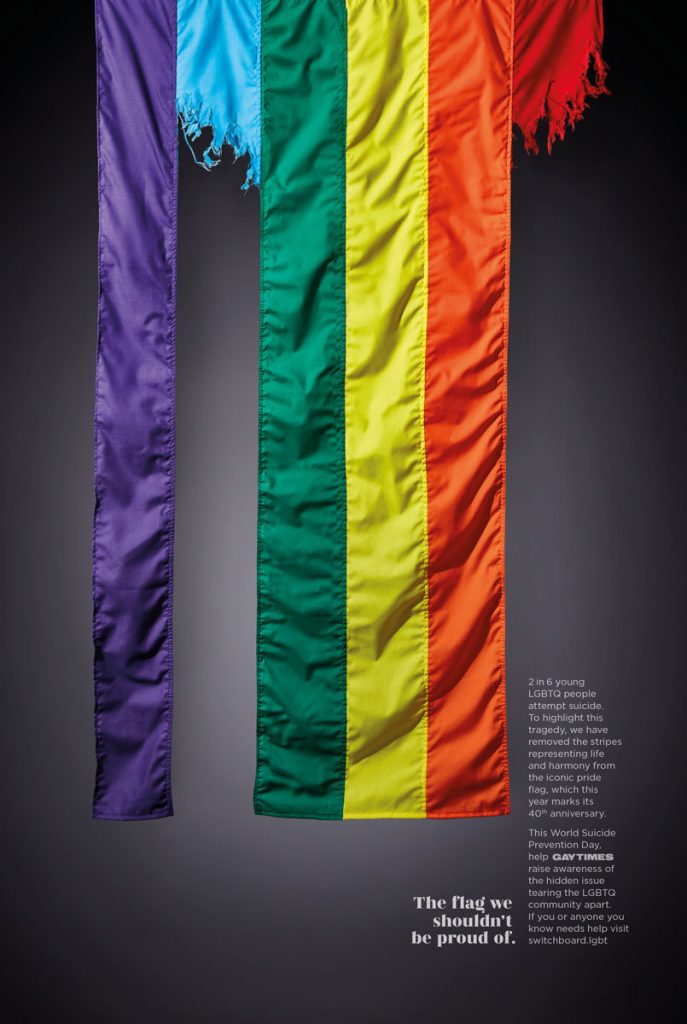 The campaign centres around a ceremonial version of the iconic pride flag which has 2 of the 6 stripes removed in order to represent the 2 in 6 LGBTQ+ young people we risk losing to suicide due to issues including bullying, discrimination, gender identity and mental health. This powerful statement is made all the more poignant because the lost red and blue stripes traditionally symbolise 'Life' and 'Harmony'.
The project will be socially driven and features a film and social posts starring Years & Years frontman and LGBTQ+ activist Olly Alexander as well as a press ad running in selected titles and posters (donated by Primesight).
As we mark the 40th anniversary of the original pride flag, this campaign asks us to remember how far we have come but also recognise the work we have ahead of us to keep the LGBTQ+ community safe and well. If you need help, or know someone who does, please call 0300 330 0630 or visit switchboard.lgbt.
Fronting the campaign, Olly Alexander (Years & Years), said: "There's such a stigma around mental health that stops us from speaking out. In the workplace, in education, or even at home, it can feel difficult to express what you're going through in the first place. Tackling that stigma is one part of it. I also think we have to have the actual services and provisions for LGBTQ people, because they are quite slim on the ground. The things that we can do to help that situation is to be on our local representatives so they are not defunding or shutting them down."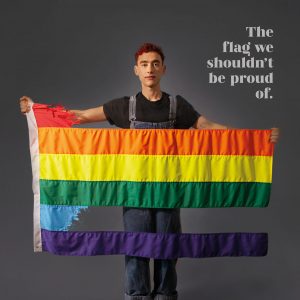 Mayor of London, Sadiq Khan, added: "I'm proud that London is a symbol of diversity and progress, but we know too many young LGBTQ+ Londoners experience poor mental health and discrimination. We need to do much more and I'm delighted to back Gay Times in trying to raise awareness of LGBTQ+ youth suicide. The wellbeing of our young Londoners is vital if we are to build a healthy future for our capital, and I'm determined that all communities feel able to speak openly about their mental health and access the support they need."
Editor of Gay Times, William Connolly, said: "As we know, issues surrounding mental health affect LGBTQ people disproportionately, and World Suicide Prevention Day is an opportunity for us to reflect on the vast work that still needs to be done within the community. We need to bring a heightened sense of urgency to our approach to mental health so that queer people everywhere can live their lives happily and freely, without fear or oppression. As the oldest LGBTQ helpline charity in the UK, Switchboard have long provided an essential lifeline to LGBTQ people up and down the country and we're extremely proud to partner with them on this campaign."
The Gate London creatives John Osborne and Rickie Marsden, said: "Despite this being an issue close to our hearts, we didn't realise the scale of the problem. We felt like we had to help put a spotlight on it and start the conversation in a simple yet powerful way. Using the Pride flag seemed to be the perfect way to do so owed to its history of uniting people behind the LGBTQ+ community."
Source: The Gate London