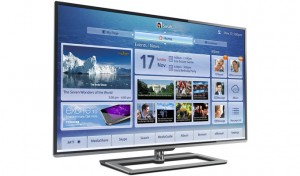 Toshiba will launch its Ultra HD sets in the U.S. in August, with its 84-inch model listed $8,000 cheaper than Sony's. Sharp is also getting in the game with a 70-inch set.
The 4K sets, which offer resolution some four times greater than HD, are on sale even as 4K TV content is embryonic.
The 84-inch Toshiba set comes with a suggested retail price of $16,999, though a 58-inch model carries a $4,999 tag. Sharp's set will go for about $7,999. As 4K sets proliferate, LG has an 84-inch Ultra HD set on sale for $19,999, below Sony's $24,999.
Even without native 4K content, the sets can provide a more pristine picture and there are opportunities to watch Blu-ray discs in close to 4K style.
Using cloud TV, the Toshiba sets allow the ability to share digital photos and send and receive messages. There is also a built-in WiFi capability.
The studio affiliated with the 3net channel jointly run by Discovery, IMAX and Sony has a trio of projects in native 4K in the pipeline.
Sony and FIFA have been undergoing a trial in 4K production at the current Confederations Cup soccer tournament in Brazil. The content is not being made available externally, and the partners said they are gauging feasibility.
Sony executive Mark Grinyer stated that the FIFA event would mark an "important milestone for the future of 4K."