New research has shown that in a world of digital and social media, TV is still the main medium by which consumers learn about new product launches.
Nearly half (44%) of Brits say they first noticed new products when they appeared on television, far above the next-highest chosen options: only 12% who spotted them on social media and 9% in online ads.
The study was commissioned by launch marketing specialist agency Five by Five and could be awkward news for CMOs who have moved their budget into digital marketing at the expense of TV: its previous research back in 2016 found that three-quarters of brand marketers (74%) now prioritise social media above TV advertising in their launch marketing plans.
However, these latest figures indicate that only one in eight people actually become aware of launches via social media, and just over one fifth (22%) of them share the information online.
James Roles, sales and marketing director at Five by Five, comments: "There is no doubt that TV gives you the biggest stage and the brightest spotlight, but there is a health warning attached to this. Our research shows that consumers are now more advertising-savvy than ever before. Spending big on TV won't always guarantee success. You need to be disruptive with your creative and make it feel like you're offering something new to get cut through. If you can get this right, there remains no substitute to a simple and well-executed TV ad campaign when it comes to launching a new product or service."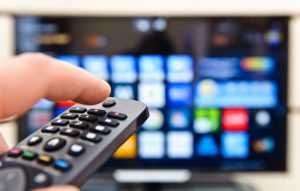 This new research also found that only 3% believe celebrity endorsement makes launches stand out, with only one in 14 people (7%) saying they actually noticed a launch because a celebrity or influencer mentioned it.
James Roles, adds: "Brands are using social media stars and celebrities now more than ever and yet our research findings suggest that they are having limited impact on the success of a launch. My hunch is that there is rarely an authentic connection between the celebrity and the brand they are promoting. Forging a deeper connection with their third party endorsers and ensuring activity is an expression of your brand values would help to achieve this."
On social platforms, only one-quarter of consumers say they would share branded content or information about a new product or service launch in return for a promotional offer, while less than one-quarter (23%) would share branded content if they felt it met a friend or family member's needs.
James Roles concludes: "The data is damning: with only one in four of us willing to share launch information on social media in exchange for a promotional offer, it's clear that brands have to get smarter at creating stand out content.
The full report contains analysis covering a wide range of sectors including automotive, fashion, gaming, FMCG and more. It can be downloaded here.
Source: Five by Five